Charleston hotels With so much to do and see in Charleston, it's easy to find the right hotel.
Charleston
Travel Guide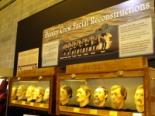 The Hunley
The Hunley submarine was the world's first successful submarine, built on President Abraham Lincoln's orders during the Civil War. The submarine first arrived in Charleston by train in 1863, and proceeded to sink the warship Housatoni in 1894. However, the Hunley itself also sank and its location and the cause of its sinking remained a mystery for many years. In 1995, the submarine was finally discovered with the help of modern navigation tools, and was brought to land both for preservation and in order to piece together the history of the submarine's final hours. The submarine is now on display in a conservation tank at Charleston's Old Naval Base, where it is still studied carefully. Here, visitors can see facial reconstructions of the Hunley crew, artefacts excavated from the submarine and the legendary gold coin that supposedly saved the captain's life. There is also a life size model of the vessel from movie and a National Geographic documentary for visitors to enjoy.


Address: Warren Lasch Conservation Center, 1250 Supply Street
Website: www.hunley.org
Telephone: (843) 743 4865
Opening Time: Hunley tours operate from 10am to 5pm on Saturdays, and 12pm to 5pm on Sundays
Admission: Order in advance. (Adult) US$12, (child under 5) free
Travel guide by (c) Globe Media Ltd. By its very nature much of the information in this travel guide is subject to change at short notice and travellers are urged to verify information on which they're relying with the relevant authorities. We cannot accept any responsibility for any loss or inconvenience to any person as a result of information contained above.