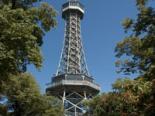 Petrin Hill
PetYín Hill offers many attractions for children and adults on holiday in Prague. To start, the funicular ride up the hill is fun for kids, and when they get there, a climb up the miniature Eiffel-like TV tower is also exciting. Kids love finding each other in the (mirror maze) hall, and pony rides on the hill are also a popular activity. The observatory is a fascinating attraction for older kids.


Address: Lesser Town, Prague 1
Transportation: Walk along a wooded path or take the funicular from Ã?jezd Street.