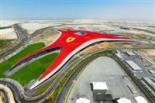 Ferrari World
Strap yourself in for the ride of a lifetime at Ferrari World, which opened at Abu Dhabi's Yas Island in November 2010. At over 2 million sq feet (200,000 sq m) this is the largest indoor amusement park in the world. The headline attraction is the Formula Rossa rollercoaster, by some margin the world's fastest, attaining speeds of up to 160 miles p/h (240km) and an acceleration of 4.8 G, which is what a Formula One racing driver experiences at full throttle. The park's many attractions include the largest Ferrari gallery outside of the brand's headquarters in Marinello, Italy; the Speed of Magic immersive 4-D film experience; the G-Force space shot tower; Bell'Italia, which reproduces Italy's main attractions in miniature; and various state of the art racing simulators. An enormous red-domed roof encloses the facility, creating a futuristic and unique structure that has been nominated for several architectural awards. Ferrari World includes six restaurants, featuring four Michelin-
Address: Yas Island, 30 minutes' drive from Abu Dhabi
Website: www.ferrariworldabudhabi.com
Opening Time: Sunday, Tuesday and Wednesday: 12pm-10pm; Thursday, Friday and Saturday: 12pm-12am. Closed Mondays.
Admission: Based on height: AED 225 for those over 1.5 metres tall, AED 165 for those under 1.5 metres. Children under 1 metre are free.