Canberra hotels With so much to do and see in Canberra, it's easy to find the right hotel.
Canberra
Travel Guide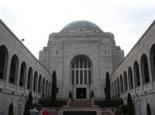 Australian War Memorial
Consistently voted Canberra's premier tourist attraction, the Australian War Memorial is not only a fitting tribute to the men and women who gave their lives in service of their country, but also a fascinating, highly-informative museum, that seeks to educate modern Australians about the conflicts that have blighted their country's past. Housing an in-depth exhibition for every war Australia has ever been involved in, and boasting passionate, knowledgeable tour guides, visitors are strongly advised to set aside at least half a day to do the museum justice. A must-see for anyone seeking a sobering, humanising reminder of how dearly war can cost a nation.


Address: Treloar Crescent, Canberra
Website: www.awm.gov.au
Email: info@awm.gov.au
Telephone: (02) 6243 4211
Transportation: Bus route #10
Opening Time: Open daily from 9am to 5pm
Admission: Free admission
Travel guide by (c) Globe Media Ltd. By its very nature much of the information in this travel guide is subject to change at short notice and travellers are urged to verify information on which they're relying with the relevant authorities. We cannot accept any responsibility for any loss or inconvenience to any person as a result of information contained above.