San Juan hotels With so much to do and see in San Juan, it's easy to find the right hotel.
San Juan
Travel Guide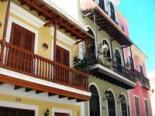 Old San Juan
This area, encompassing about seven blocks, dates back about 500 years to the Spanish occupation when it served as a military stronghold that even withstood Sir Francis Drake's armies. The original cobbles on the streets are blue-tinged, and were originally used as ballast on Spanish ships. The ancient stones set off the more than 400 restored 16th- and 17th-century Spanish colonial buildings that fill Old San Juan and draw thousands of tourists to walk the narrow, steep streets every day. The old town is enclosed in amazingly thick, high walls and features numerous attractive plazas bearing sculptures and memorials.
Travel guide by (c) Globe Media Ltd. By its very nature much of the information in this travel guide is subject to change at short notice and travellers are urged to verify information on which they're relying with the relevant authorities. We cannot accept any responsibility for any loss or inconvenience to any person as a result of information contained above.