San Juan hotels With so much to do and see in San Juan, it's easy to find the right hotel.
San Juan
Travel Guide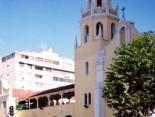 Saint John the Baptist Cathedral
San Juan's Cathedral was originally built in 1521 by Puerto Rico's first Spanish bishop as a thatched wooden church, but was destroyed in a hurricane in 1526. The current medieval structure, built from stone brought in from inland quarries by horses, dates from 1540, although extensive renovations and reconstructions were carried out in 1917. The cathedral features Doric columns and elliptical vaults, and contains the marble tomb of the island's first governor.


Address: Cristo Street
Telephone: 787 722 0861 or
Opening Time: Daily tours run from 8.30am to 4pm. Regular services are held
Travel guide by (c) Globe Media Ltd. By its very nature much of the information in this travel guide is subject to change at short notice and travellers are urged to verify information on which they're relying with the relevant authorities. We cannot accept any responsibility for any loss or inconvenience to any person as a result of information contained above.