San Juan hotels With so much to do and see in San Juan, it's easy to find the right hotel.
San Juan
Travel Guide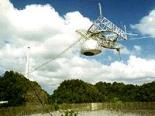 Arecibo Ionospheric Observatory
America's ears and eyes are focused on the stars from the island of Puerto Rico. In the northwest mountains of the island, about 90 minutes drive west of San Juan, among the Karst Country hills, is one of the most important astronomical research facilities on earth, the Arecibo Ionospheric Observatory. Its massive dish is larger in area than a dozen football fields and is sited in a sinkhole, aimed at the heavens and tuned to detect the slightest sounds emitted from the farthest stars. This is the home base for NASA's 'SETI' (Search for Extra-Terrestrial Intelligence) project, and as such holds great fascination for visitors. A Visitors Centre is equipped with interactive exhibits to demonstrate how the huge structure works. Visitors can hike to the viewing platform to view the vast tiled dish.


Address: Arecibo
Website: www.naic.edu
Telephone: 787 878 2612
Opening Time: Open daily from 9am to 4pm in June, July, December and January. Closed on Mondays and Tuesdays in the remaining months
Admission: $10 (adults); $6 (children)
Travel guide by (c) Globe Media Ltd. By its very nature much of the information in this travel guide is subject to change at short notice and travellers are urged to verify information on which they're relying with the relevant authorities. We cannot accept any responsibility for any loss or inconvenience to any person as a result of information contained above.