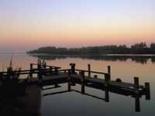 Greater St Lucia Wetland Park
In the far north of Kwa-Zulu Natal are a string of nature reserves and game parks, of which the largest and most exciting is the Greater St Lucia Wetland Park, dominated by the fascinating St Lucia estuary and lake system. It covers five distinct ecosystems varying from dry thorn scrub to tropical forest and is bordered by giant dunes, beaches and tropical reefs. Big Five game viewing is on offer, and this is the only place in the world where you will see hippos, crocodiles and sharks co-habiting in the same lagoon. There are comfortable rest camps in the park. The Wetland Park has been declared a UNESCO World Heritage Site.


Telephone: 033 845 1000 (K
Opening Time: Open 24 hours daily, office hours are daily 8am to 4.30pm
Admission: Entrance to St Lucia village is free. An entrance fee is applicable to all the reserves.