Johannesburg hotels With so much to do and see in Johannesburg, it's easy to find the right hotel.
Johannesburg
Travel Guide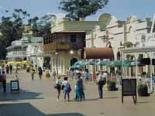 Gold Reef City
This entertainment complex is essentially a theme park full of thrill rides, but was designed to be a re-creation of Victorian Johannesburg during the gold-rush era. The park, four miles (6km) south of the city centre via the M1 motorway, was built around the No.14 Crown mineshaft that began operations in 1887 and closed in 1975. During its production years 1,400 tons of gold came out of the shaft. Visitors can now descend into the old mine shaft to experience life at the rock face, and watch gold being poured and minted. Gold Reef City also houses a number of museums, and offers performances by traditional gumboot dancers. Youngsters particularly enjoy the rides like the Anaconda roller coaster and Thunder Mountain River Rapids. There are also plenty of restaurants, bars, a massive casino, and a Victorian hotel for those wanting to stay the night.


Website: www.goldreefcity.co.za
Email: info@goldreefcity.co.za
Telephone: 011 248 6800
Opening Time: Theme park: Tuesday to Sunday 9.30am to 5pm; open daily during Gauteng school holidays; closed on Christmas day
Admission: R150 adults. Concessions and family tickets available
Travel guide by (c) Globe Media Ltd. By its very nature much of the information in this travel guide is subject to change at short notice and travellers are urged to verify information on which they're relying with the relevant authorities. We cannot accept any responsibility for any loss or inconvenience to any person as a result of information contained above.