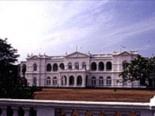 Sri Lanka National Museum
Sri Lanka's oldest museum was established in 1877 and today boasts a massive collection of antiques and objects d'art, encompassing the cultural heritage of the island. Exhibits include artefacts from archaeological sites all over Sri Lanka, and more than 4,000 ancient palm leaf manuscripts. Among the exhibits is displayed the regalia of the Kandyan Kings dating back to the 17th century. Alongside the archaeological museum in Ananda Coomaraswamy Mawatha is the Natural History Museum, which features the island's fauna and flora in dioramas. The dual museums are a good introduction for visitors interested in discovering the culture and 2,500-year history of the island.


Address: Sir Marcus Fernando Mawatha
Telephone: (0)12 694 366
Opening Time: Daily 9am-5pm. Closed Fridays.
Admission: LKR 500 (adults), LKR 300 (children).