By Jill Weinlein Jun. 9th, 2017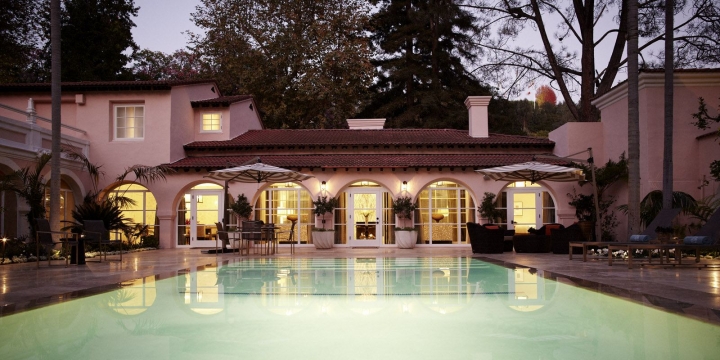 Photo Credit: Hotel Bel Air
Crossing over the covered walkway next to the picturesque Swan Lake at Hotel Bel Air, a staff member welcomed and escorted me to the Presidential Suite for an afternoon soirée. Strolling through the lush landscaped gardens, I admired this exclusive Californian oasis, known as one of the most luxurious and celebrated properties in the world. The Presidential Suite is an impressive compound with its own private entrance, large courtyard with a heated infinity pool and variety of lounge chairs and tables to relax, entertain and unwind.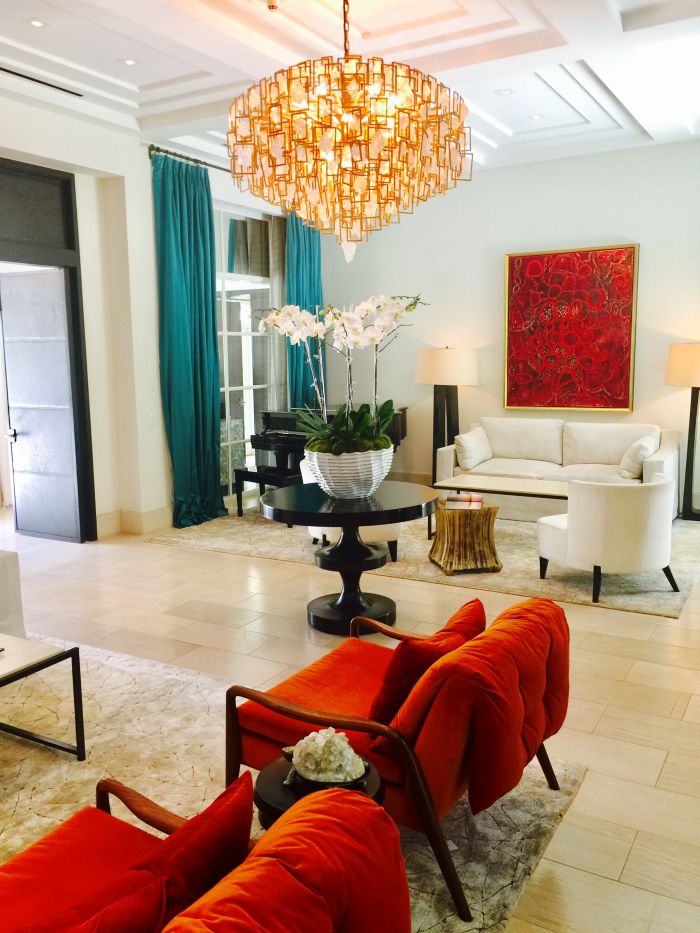 Photo Credit: Jill Weinlein
Just minutes from Beverly Hills, Hotel Bel Air is an exclusive hideway nestled in one of Los Angeles' most upscale neighborhoods. The main pink mission-style building was built in the 1920s by developer Alphonso E. Bell as an estate planning and sales offices. Situated next to horse stables, residents could ride on equestrian trails throughout the bucolic canyons while searching for a lot to purchase to build a custom home.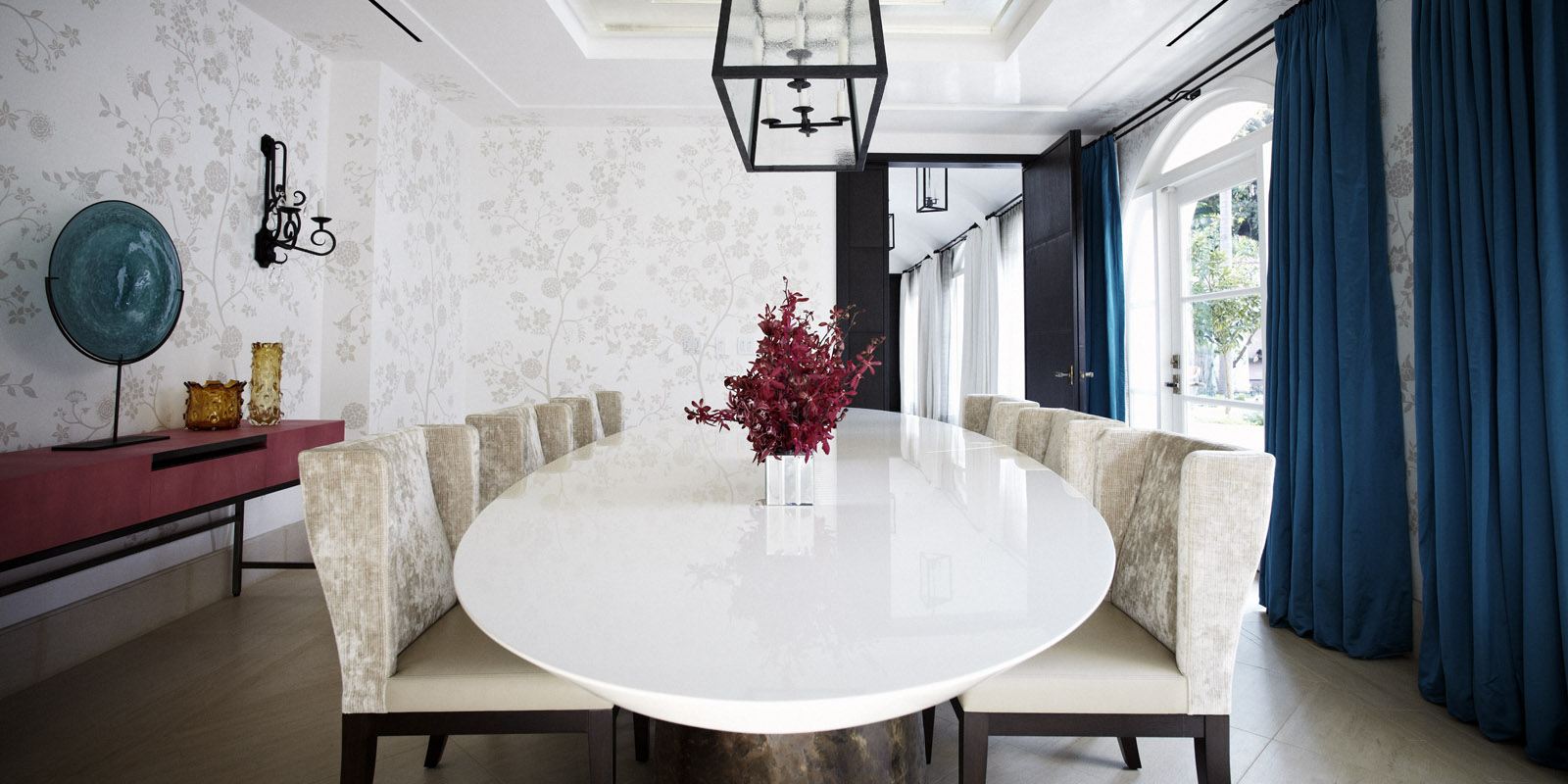 Photo Credit: Hotel Bel Air
In 1946 hotelier Joseph Drown purchased 18 nearby acres and hired architect Burton Schutt to convert the property into a 62-room boutique hotel. He wanted to create the quintessential California resort sprinkled with palms, ficus trees and perennial flowers. Drown closed the Stone Canyon stables and dug a sparkling pool at the original riding ring. Today, the former stable is the 2,265-square-foot Presidental Suite with an updated, heated pool, enhancing the desirability of the accomondations.
When the hotel opened in the late 1940s, it soon became a favorite restorative spot for celebrities and the rich and famous. Marilyn Mornore and Elizabeth Taylor stayed here, as did Grace Kelly and Cary Grant.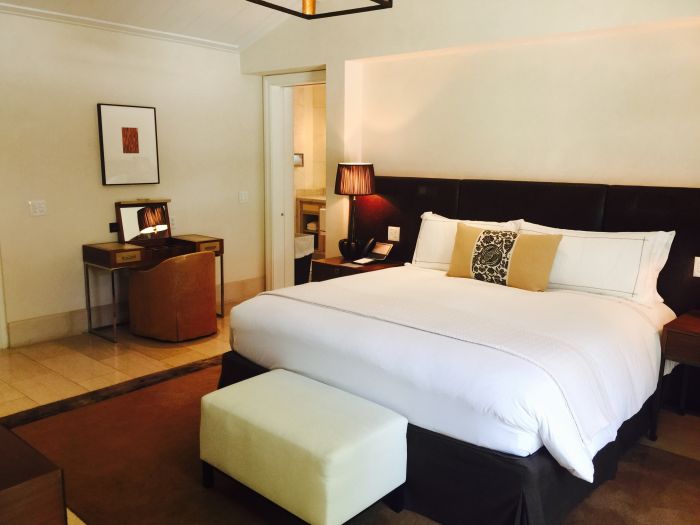 Photo Credit: Jill Weinlein
In the 1980s Caroline Hunt purchased the property to add to her hotel group Rosewood Hotels & Resorts. She added 30 additional rooms, with each one offering a distinct uniqueness. In 1989 it was acquired by the Sazale-Bel-Air Group and then a few years after Prince Jefri Bolkiah, the brother of the Sultan of Brunei purchased the resort.
Currently the Dorchester Collection manages the property. It was closed for a two-year refurbishment and reopened in 2011 with 91 guestrooms, designed by firms Alexandra Champalimaud and Rockwell Group.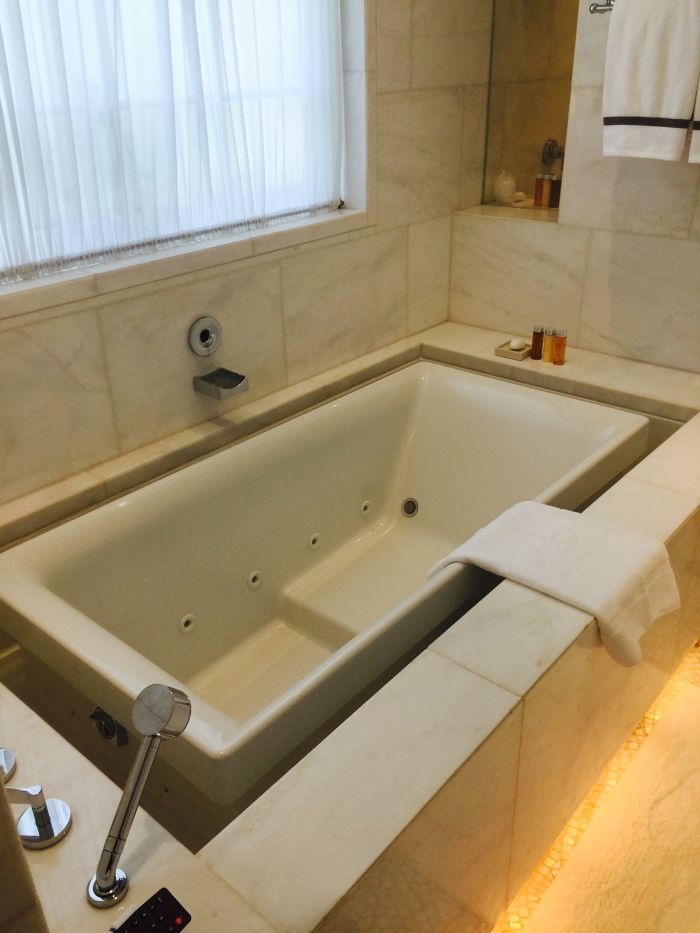 Photo Credit: Jill Weinlein
Oprah Winfrey, among other A-list stars and dignitaries appreciate the exclusivity and tranquility of the Presidential Suite. With colorful gardens surrounding it, the back patio offers a private sundeck with a hot whirlpool tub. Inside is one bedroom with a king size bed dressed in the finest Egyptian cotton, and glamourous master bath with limestone heated floors. There's plenty of room to entertain guests in the full-size designer living room, open bar for cocktail parites, and private dining room off a full kitchen. It's large enough for someone to cook an intimate dinner party, instead of walking over to the onsite Wolfgang Puck's at Hotel Bel Air for a meal.
The hotel offers highly trained mutlilingual staff members and complimentary transporatation within three miles. With its close proximinty to UCLA, Century City and Santa Monica, it's a desireable destination for jet setters, multimillionaires, weddings and those seeking the ultimate getaway that wows the senses.
Jill Weinlein
Los Angeles based Jill Weinlein covers travel, food and lifestyle destinations for multiple newspapers, magazines and websites. Her areas of expertise include, luxury travel, culinary reviews, cruising and family travel destinations. Born in Los Angeles, Jill studied Communications and Theatre Arts at UCLA. She has a a Dine and Travel blog - www.dineandtravel.me and she writes a weekly restaur...(Read More)