By Kellie K. Speed Oct. 7th, 2010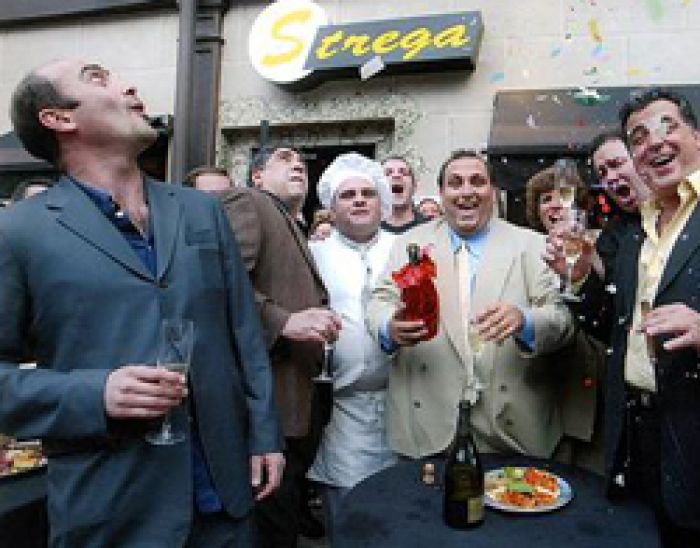 Restaurant News:
Nick Varano of North End Strega fame has just opened yet another restaurant - Strega - Waterfront. Located in the hot new area of Fan Pier, the harbor side restaurant features outdoor dining and an expanded dining room. The North End restaurant still exists catering to a more intimate crowd while the new larger location offers 5,700 square feet of both indoor and patio dining, as well as a bar, lounge seating, three private dining rooms and even an intimate eight-seat wine room. Both the main dining room and bar are also complemented with two roaring fireplaces.
Varano made his success "treating everyone like a celebrity" and if his new endeavor is anything like his other restaurants, Strega - Waterfront will surely prove to be a success. His old world Italian style cooking from the heart while captivating a modern feel and charm has made a name for him in the city.
The new restaurant is beautifully designed with onyx black, chocolate brown and imported white Terrazzo flooring from Italy to evoke the heydays of 30?s and 40's. There are even 20 signature flat screen televisions scattered throughout the bar area similar to the original North End location. The cuisine here features everything from Caprese salad, fruite de mare and fettuccine alla carbonara, to veal Sorrentina, and of course, Nick Varano's famous meatballs.
"My passion lies within food, family, and the city of
Boston
, who has shown me an immense amount of hospitality since opening the doors of the original Strega seven years ago," Varano said. "Treating every guest like a celebrity has been the mantra of my hospitality career from the beginning, and this belief will continue to hold true with the exciting launch of our waterfront location."
Can't stay for dinner? Then head over to the adjacent Strega café known as Caffé di Marina for a homemade panini or a crepe to go. There is even a good selection of gelateria and pastries as well.
Nick Varano owns and operates several North End eateries, including Strega, Nico, and Nick Varano'?s Famous Deli. Earlier this spring, Varano opened The Ocean Club at Marina Bay and also has his own line of famous red sauce available in local supermarkets. For more information on Strega - Waterfront at Fan Pier, visit www.stregaatfanpier.com.
Kellie K. Speed
As the Boston city guide editor for JustLuxe, Kellie Speed is a native Bostonian and a freelance writer/editor/copywriter with more than 20 years expe...(Read More)