By Kellie K. Speed Dec. 6th, 2010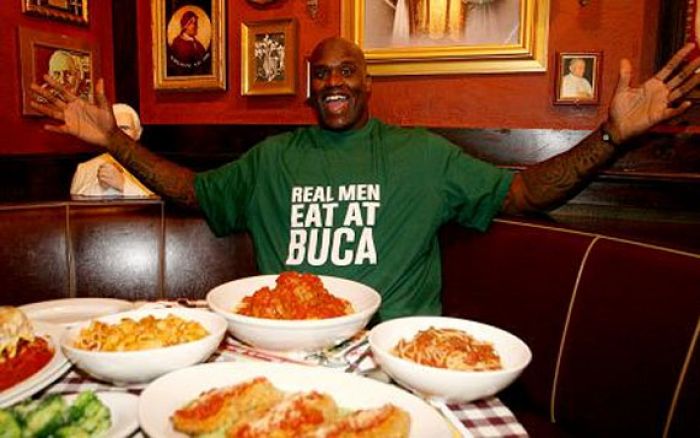 Dining:
When Vinny T's restaurants closed their doors in Massachusetts, everyone anxiously awaited what would take over the locations. Enter Buca di Beppo, an authentic
Italian
restaurant that offers flavorful cuisine served up in enormous portions.
The first Buca di Beppo opened its doors in 1993 in the basement of a Minneapolis apartment building and now has 87 locations nationwide.
We visited the recently opened Lexington location where many local celebrities have been spotted, including the Celtics own Shaquille O'Neal. The restaurant was jam packed with people on the first floor waiting for a table while surrounding the bar area.

Servers offered those waiting some samples of their pizza, which we enjoyed before being seated. The hostess showed us to our table on the second floor where a second enormous dining room was located in a quieter atmosphere.
The restaurant has a casual atmosphere with red and white checkered tablecloths for family style dining. Be sure to request a booth here for extra space as we were seated at a very small table that was barely large enough to accommodate all of the plates and glassware. Our server quickly informed us about "Bucanomics," the restaurant's language for understanding the menu's small and large portions. The former size feeds two to three people while the larger portion is ideal for families with up to six guests.
We started off with the Mediterranean panzanella salad, which was filled with fresh spinach, feta cheese, olives, roasted eggplant, pepperoncinis, cucumbers, red onion and tomatoes. The delicious salad was topped with a tasty Greek dressing, which was absorbed by the chunks of crusty Italian bread that were mixed throughout. The mozzarella garlic bread sounded fantastic and we are looking forward to our return visit to sample some. The spicy calamari also sounded tempting tossed with banana peppers.

The dishes here, inspired by both northern and southern Italian cuisine, are served family style and meant to be shared. There is an enormous variety of appetizers, salads, pastas, pizzas, entrees and desserts on the menu. For entrees, we sampled the sinfully good baked rigatoni, a gargantuan bowl filled with penne pasta tossed in flavorful meat sauce with spicy Italian sausage topped with mozzarella and dollops of ricotta cheese. The chicken parmigiana was equally delicious - four tender and juicy chicken breasts arrived topped with mozzarella and a savory tomato marinara sauce. Oddly enough, the dish did not come with pasta so we ordered a small side of spaghetti to complement the dish.
The full Buca menu is available to go, and many locations offer curb side pickup. Many locations even have an online ordering system, making takeout that much easier.
Buca di Beppo is located at 20 Waltham Street, Lexington, MA 02421. For more information, call (781) 861-0162 or visit www.bucadibeppo.com.