By Kellie K. Speed Jul. 11th, 2011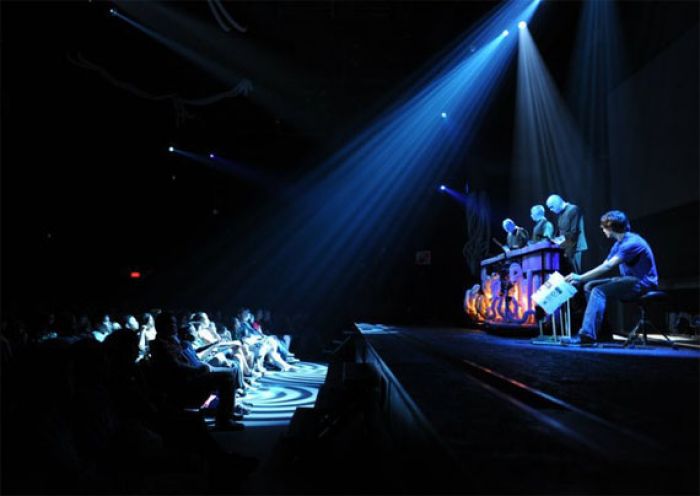 Photo Courtesy of Blue Man Group
Just when you think you have seen the visually stunning Blue Man Group performance before, the show gets even better. They recently added new material and are continuing its long-running performance at the
Charles Playhouse
.
The multi-media show now takes a hilarious look at the technology that surrounds us. Gone are the digital message boards and in are sleek iPhones displaying high-tech messages to the audience. The show highlights technogeek ingenuity while providing the audience with a fun and interactive experience.

My husband and I visited Blue Man one recent evening with our nine-year-old nieces. They were both a little apprehensive about the show (after all, the show does feature three somewhat creepy alien looking "blue men"), but five minutes into the start, they both were overwhelmed with shrieks of laughter.



The amusing show cleverly combines technology, performance art and comedy to provide a fun atmosphere for the audience. From marshmallows and Twinkies to blue paint and Cap'n Crunch cereal, the Blue Men splash paint, throw Jell-O molds into the audience, and catch an obscene about of marshmallows in their mouths, all while never speaking. The hour-and-a-half-long show is just as witty now as when it first debuted in Boston and the ending is simply incredible providing never ending laughter.

Whether you are an adult or child, you are truly guaranteed a one-of-a-kind experience here. Blue Man Group really is a show that has to be seen firsthand to be fully understood and believed. Blue Man Group performs regularly at the Charles Playhouse, 74 Warrenton Street, Boston. For tickets or more information, call 800.982.2787 or visit BlueMan.com.
Kellie K. Speed
As the Boston city guide editor for JustLuxe, Kellie Speed is a native Bostonian and a freelance writer/editor/copywriter with more than 20 years expe...(Read More)