By Kellie K. Speed Jul. 6th, 2011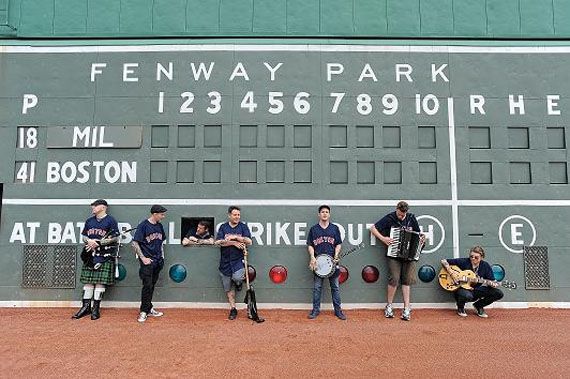 Photo Courtesy of Dropkick Murphys
The Dropkick Murphys are coming to Boston in a big way this summer, playing at
Fenway Park
in an intimate concert set amidst the bleachers. We caught up with lead singer Ken Casey to discuss their new album, the Bruins Stanley Cup and, of course, Jonathan Papelbon's dancing.
JustLuxe: Tell me about your latest album "Going Out in Style" and what the inspiration was behind it.

Ken Casey: This is our seventh album and we had come up with the concept for a themed album. We wanted it to be more like a literary vibe so we enlisted author Michael Patrick MacDonald to take the storyline lyrics that we were telling and put them into a narrative story.

JL: How does it feel to be offered the chance to play at Fenway Park this summer?

KC: It's awesome. We have a great relationship with the Red Sox. If you're a band, you want to play at the Garden and Fenway Park. They're both on the list for every band coming to town.

JL: What will it be like to play with a legendary Boston band like the Mighty Mighty Bosstones at Fenway?

KC: We have played with them before as we toured with them through all the minor league parks like Providence, Lowell and Pawtucket. So, this is a continuation of that tour. There will be an acoustic stage under the bleachers and concourse so we will be playing to the entire bleachers and right field.


JL: Give us the inside scoop on what it was like to see the Bruins win the Stanley Cup in Vancouver.

KC: I got to hold the Stanley Cup on the ice in Vancouver after they won. It was incredible.

JL: Speaking of sports, how did Red Sox closer Jonathan Papelbon's Irish jig come about?

KC: He didn't do that with any encouragement from us. He just started dancing on his own. I have to say, the man's got rhythm!

JL: Why do you think your music appeals to people of all ages from teens through middle age?

KC: We still have our original fan base. I have seen guys my age with their kids on their shoulders standing next to their parents. I think there is a cultural aspect to the band and most importantly, the lyrics are mostly family friendly.

JL: Did you ever think the Dropkicks would be this successful?

KC: It was never the plan for this to be a job even though it's the best job in the world. I did envision when we started and based on the lyrics that we could spread to a wider audience. I thought we would appeal to the punk rockers but not to this diverse fan base. We are very grateful to all of our fans.

JL: What is it like to have the best fan base right in your own hometown of Boston?

KC: To be popular in your hometown is a good thing. We have cultivated that to keep it special making just a few performances each year like on St. Patty's Day. It's easy for a local band to wear out its welcome and we don't want to do that.

For tickets, visit Boston.Redsox.MLB.com.