By Kellie K. Speed Sep. 6th, 2011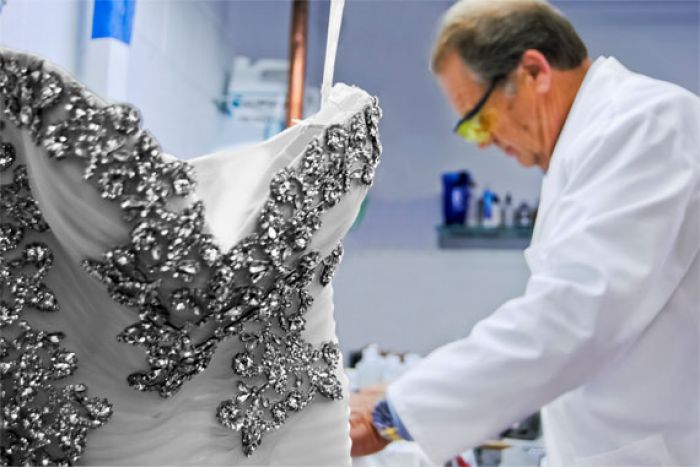 Photo Courtesy of Dependable Cleaners
Fall is one of the most popular times of year for weddings so Dependable Cleaners is preparing for the influx of brides this season looking to restore their gowns before the big day and preserve them after the wedding.
Recently, I got a behind-the-scenes tour of the East Milton, Mass. facility to learn a little more about the cleaning, alteration and restoration process. According to Director of Training and Wedding Gown Services Ken Grippi, they take a picture of the gown when it is first received. "The bride then lists the cost of the gown and asks for specific spills or stains to be removed," Grippi said. "After about a 15 to 20 minute consultation, the dress is then re-inspected for any fraying and we take it to a black light that picks up any sugar and oil stains."
Due to the intricate nature of the entire cleansing process and amount of hand cleaning involved, there are only two people at Dependable Cleaners who work on cleaning the gowns – Grippi and Wedding Gown Specialist Elton Crespo.
After viewing multiple photos of gowns that appear to have been ruined and then seeing the dress returned to its natural clean state, I knew the cleaning and restoration process had to be quite involved. "We had a dress once with extensive mildew and another with red clay that took us two weeks to clean," Grippi added. "We really want to make memories for the bride by taking the gown back to what it was before, while preserving those memories. We have gone on-site for wedding pressing just before the ceremony with an iron and steamer. We can accommodate any request, including a destination wedding where we can package the gown in a container that the bride can take through security and simply place in an overhead compartment."
The cleaning process itself is quite involved and all of the cleaned gowns here are "green" preserved using a zero carbon preservation service. "Of key importance is that all fabrics need to breathe," he said. "With our preservation, they can do just that. We have a steam, air and vacuum that we use to get the stains out and a special table where we can lie the dress out entirely. We also have a restoration tank where we clean the gowns all by hand and a European up air board with small irons that we use to press the gowns."
Once the dress is cleaned and pressed, it is then boxed in an all white, see-through box. "If a box is not all white, it is not completely acid free," Grippi noted. "Our dresses are also packaged so the gown doesn't move."
Over the years, Grippi and Crespo have cleaned not only wedding dresses but also christening gowns, a Ted Williams practice jersey, a Mohammed Ali jacket that was autographed and framed that had yellowed over the years, antique tolls and even teddy bears. "There's nothing we can't clean," Grippi added.
For more information on Dependable Cleaners' wedding preservation system, call (800) 572-4068 or visit them online at DependableCleaners.com.
Kellie K. Speed
As the Boston city guide editor for JustLuxe, Kellie Speed is a native Bostonian and a freelance writer/editor/copywriter with more than 20 years expe...(Read More)