By Kellie K. Speed Oct. 24th, 2011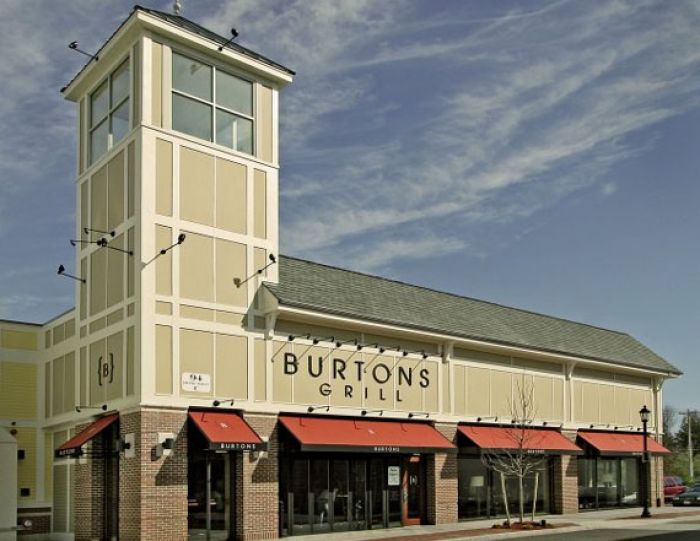 Photo Courtesy of Burtons Grill
Burtons Grill in Hingham has been attracting quite a following since its opening a few years ago. Since then, it has become a favorite destination for great steaks on the South Shore.
Located in The Derby Street Shoppes on Hingham's Route 53 (exit 15 off of Rte 3), this is great spot lunch or dinner after a day of shopping. We visited the restaurant recently and started off with a glass of wine in the bar area before heading over to a nice cozy banquette in the main dining room.

Our friendly server quickly greeted us once we had gotten settled into our sumptuous booth and suggested we try a cocktail from their fun drink menu, which included everything from a strong dirty martini to a sweet yet tart lemon drop.

For an appetizer, we started off with the addicting Philly spring rolls – three crisp rolls arrived chock full of tender sirloin, caramelized onions, melted provolone and American cheeses and topped with crisp fried onion straws. We loved the spicy dipping sauce that accompanied this dish. Other fun appetizers include buffalo chicken rangoons, firecracker shrimp and grilled stuffed zucchini.


There is a good selection of salads on the menu, which can be ordered as a side or main dish. The chopped blue cheese salad with blue cheese crumbles, iceberg lettuce, grape tomatoes, red onions, smoked crisp bacon and balsamic vinaigrette was large enough to share but tasty enough not to. The beet salad sounded delicious as well with chopped red beets in a mustard vinaigrette with goat cheese, roasted sweet onions, candied walnuts atop a bed of greens.

Burtons is well known for its juicy cuts of beef so we couldn't wait to try the New York strip and ribeye. Both steaks were well marbled, tender, juicy and cooked to perfection. Unlike many steakhouses in Boston, Burtons does not feature an a la carte menu as most entrees come with two sides, so we both enjoyed a baked potato alongside a serving of broccoli and asparagus.

There is also a nine-ounce center cut filet mignon on the menu. If you aren't in the mood for steaks, there is a nice selection of seafood dishes to choose from, including bronzed scallops, salmon picatta, swordfish risotto and crab cakes.


For dessert, the Key lime pie should not be missed. A scrumptiously delicious sweet classic, Burtons makes it even better by adding a granola crust. Other desserts included a warmed chocolate torte, vanilla bean crème brulee and hot fudge sundae.

General Manager Stephen Slicis could often be seen walking throughout the dining room checking up on guests to ensure they were having a nice experience. From the excellent service to a menu that focuses on quality and value, Burtons Grill is a must-visit in Boston.

Burtons Grill is located at 94 Derby Street in Hingham, Mass. They currently operate in six locations on the East Coast: Hingham, Mass., North Andover, Mass., Peabody, Mass., South Windsor, Conn., Nashua, N.H. and Virginia Beach, Va. For reservations or more information, call 781.749.1007 or visit them online at BurtonsGrill.com.
Kellie K. Speed
As the Boston city guide editor for JustLuxe, Kellie Speed is a native Bostonian and a freelance writer/editor/copywriter with more than 20 years expe...(Read More)