By Kellie K. Speed Nov. 4th, 2011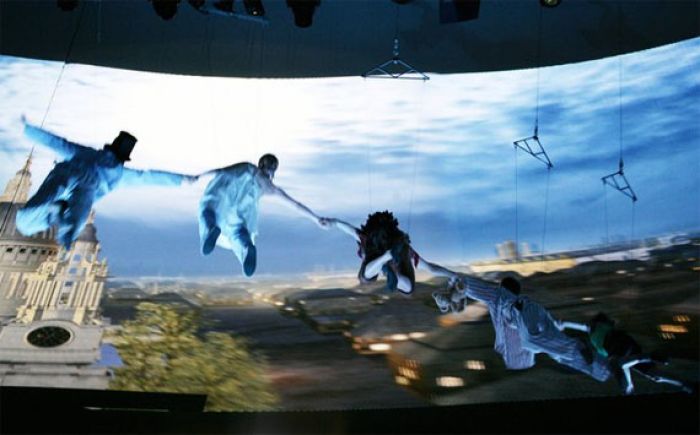 Photo Courtesy of Peter Pan The Show
When we heard Peter Pan was coming to town, we anxiously awaited the show's arrival but when we learned they would be constructing a 360-degree tent in the middle of City Hall Plaza, we could hardly wait to see the unique setup.
The tent comes to Boston from its original production in London and is being shown in their very own 360-degree theatre on City Hall Plaza now through December 30, 2011. Since its American debut, the performance has traveled to San Francisco, Orange County, CA, Atlanta, and Chicago. The classic story offers a journey through Neverland with actors, puppets, music, flying sequences and projection images on the round tent roof allowing for a 360-degree view as the cast flies off to Neverland.
Adults and children alike will love this extraordinary show that offers a highly entertaining and exhilarating thrill ride which will leave you feeling like you have just learned to fly. The entire tent is lit up with more than 15,000 square feet of high resolution video, which is three times the size of Imax screens.
If you have ever wondered what it must feel like to fly, you will be able to experience it firsthand here. With amazing imagery, audience members truly get the sensation of flying and they pass by clouds and over London's Trafalgar Square all the way to Neverland. Once there, we meet the Lost Boys, Captain Hook and a group of pirates.
The magical show, created by Scottish novelist and playwright J.M. Barrie, tells the tale of Peter Pan, the boy who never grew up (played by Chuck Bradley), sassy Tinker Bell (Emily Yetter), Wendy (Evelyn Hoskins) and her two brothers (Tom Larkin and Scott Weston) as they learn how to fly. Peter Pan appears in the bedroom of the Darling children and takes them to Neverland where they meet Tinker Bell, the Lost Boys and Captain Hook (Josh Swales). This amazing acrobatic show (complete with actors spinning, flipping and hanging above the audience) invents the classic story and presents it in a theatrical stage form to create a magical experience for all ages.
Individual tickets range in price from $35 to $75, depending on performance. Premium Ticket Packages are also available, which includes a prime seat location, a tote bag and a commemorative souvenir program. Tickets are available at the Peter Pan box office on City Hall Plaza, online at PeterPanTheShow.com and by phone at 888-PPANTIX(1-888-772-6849).
Kellie K. Speed
As the Boston city guide editor for JustLuxe, Kellie Speed is a native Bostonian and a freelance writer/editor/copywriter with more than 20 years expe...(Read More)