By Kellie K. Speed Dec. 29th, 2011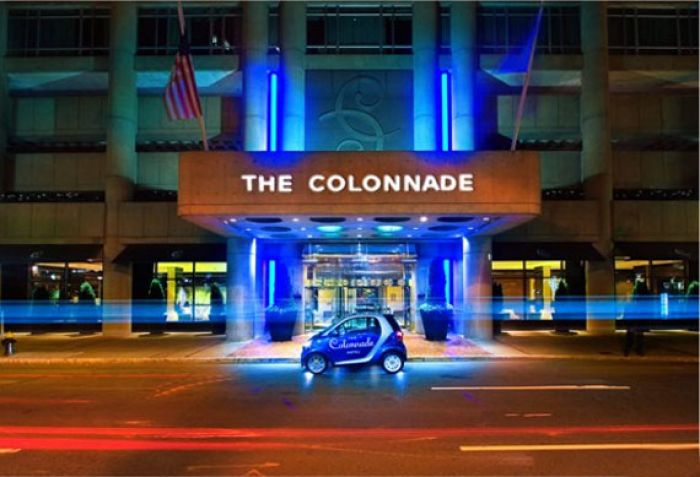 Photo Courtesy of The Colonnade Hotel
Imagine a hotel with a smart car available for your use, pet-friendly accommodations and a rooftop pool. That's exactly what you will find at
The Colonnade Hotel
in Boston.
Located in the heart of Back Bay across from The Prudential Center, The Colonnade just might have the best location in the city with some of the coolest amenities. For starters, the hotel is the only one in the Boston area to offer a rooftop pool. In the summer months, they host outdoor concerts poolside and you can even purchase a day pass to enjoy some fun in the sun while dining al fresco and enjoying some of the best views in the city from 11 stories above downtown.



This stylish property offers modern accommodations including flat-panel TVs, DVD players, MP3 iPod/iPhone docking stations and Sharper Image Sound Soothers to ensure that good night's sleep you have been craving. Unlike many urban hotels, the Colonnade does not charge a daily Internet fee, which we certainly appreciated, and the entire hotel offers complimentary high-speed Internet access.

We loved that the hotel chose to replace traditional desks in each room with dining tables (so much more useful!) where you can sip a cup of in-room coffee while checking out the bustling shopping scene below (While there isn't a balcony, you can open the energy-efficient windows here to let in some fresh air). Be sure to keep an eye out for Colette the Colonnade rubber duck, which is typically found by the bathtub waiting to greet guests (You can also take her home as a keepsake of your stay).



Pet-friendly accommodations are becoming more and more prevalent in most urban hotels and The Colonnade not only welcomes dogs, but rolls out the red carpet for them. Our English bulldog was treated like a queen when we arrived! Be sure to let them know in advance of your stay that you will be traveling with a pet so they can provide complimentary use of one of their fluffy pet beds and food bowl.

Forgot the pet food for your four-legged friend? The hotel has you covered with Purina One, Iams and Pedigree dog food brands. The Colonnade also offers pet walking services through their concierge, available for an added fee, and they can also arrange for veterinarian services, pet sitting, dog grooming and spa services as well.



If you are going out to dinner nearby, head down to the front desk and they will provide a fun ride in the hotel's smart car. The only downfall, due to its size, they can only accommodate one guest at a time, but it's a wonderful amenity for a spa appointment, manicure or haircut on nearby Newbury Street, especially in inclement weather. If you choose to take your car, there is also an on-property indoor parking garage available at the hotel for an added fee, but the convenience factor is priceless.



Insider's Tip: When booking, be sure to request a room on a higher floor overlooking Huntington Avenue for an amazing view of the city from the floor-to-ceiling windows in the guest rooms. The Colonnade Hotel is located at 120 Huntington Avenue, Boston, MA. For reservations or more information, call (617) 424-7000 or visit ColonnadeHotel.com.
Kellie K. Speed
As the Boston city guide editor for JustLuxe, Kellie Speed is a native Bostonian and a freelance writer/editor/copywriter with more than 20 years expe...(Read More)