By Kellie K. Speed Apr. 12th, 2012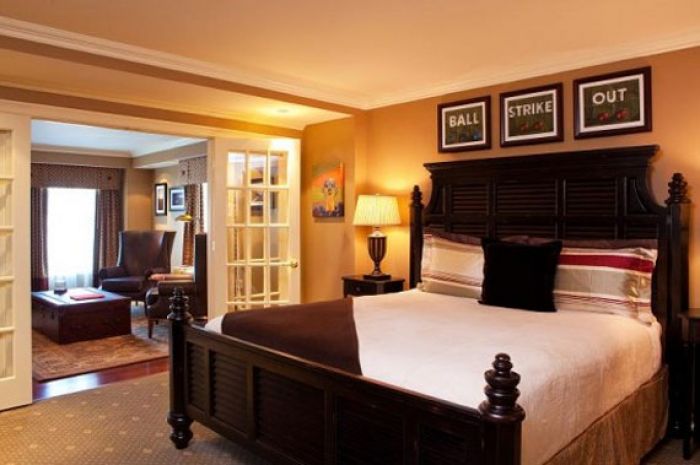 Photo Courtesy of Hotel Commonwealth
With the Red Sox home opener and Fenway Park's millennium celebration just days away, there is no better time to celebrate our beloved team's history.
The Hotel Commonwealth
in Kenmore Square has done just that, offering a special room for Red Sox fans complete with collective memorabilia acquired throughout the team's storied history (let's just not talk about last season's downfall).
The Baseball Suite takes a unique look at the oldest baseball park in America through a collection of original artwork, nostalgic design and framed photos. Separated by French doors, the Baseball Suite offers a sleeping area and living room with vintage-style furniture evocative of the 1930s and 1940s when baseball became America's favorite pastime.
There are hardwood floors, Oriental area rugs, a leather steamer trunk, leather wingback chairs and antique brass floor lamps not to mention a photograph from the Archives of The Bostonian Society depicting a dapper crowd of Red Sox fans on their way to Fenway Park in 1942.
Here you can relax in front of the 50-inch plasma TV and check out the DVD library of more than 40 classic baseball films that complement the suite's sophisticated representation of early American baseball through demure shadowboxes highlighting prized memorabilia from the 1930s and 1940s. Other highlights include a 1967 World Series program (Boston Red Sox vs. St. Louis Cardinals at Fenway Park) and a collection of vintage trading cards featuring Babe Ruth, Lou Gehrig, Ted Williams, Johnny Pesky and Jackie Robinson.

The hotel also offers a special welcome amenity of TOPPS Heritage baseball cards, Cracker Jacks, Baby Ruth candy bars, retro glass bottles of Coca-Cola Classic, a signed copy of Bill Chuck's Walkoffs, Last Licks, and Final Outs: Baseball's Grand (and Not-So-Grand) Finales and other baseball-inspired items. The hotel concierge can also arrange for guests to tour Fenway Park and secure game day tickets.
The nightly rate in The Baseball Suite is $755 (which also happens to be the career home run record set by Hank Aaron in the 1970s). The Hotel Commonwealth is located at 500 Commonwealth Avenue in Boston. For reservations or more information, call (617) 933-5000 or visit
HotelCommonwealth.com
.
Kellie K. Speed
As the Boston city guide editor for JustLuxe, Kellie Speed is a native Bostonian and a freelance writer/editor/copywriter with more than 20 years expe...(Read More)