By Kellie K. Speed Jun. 20th, 2012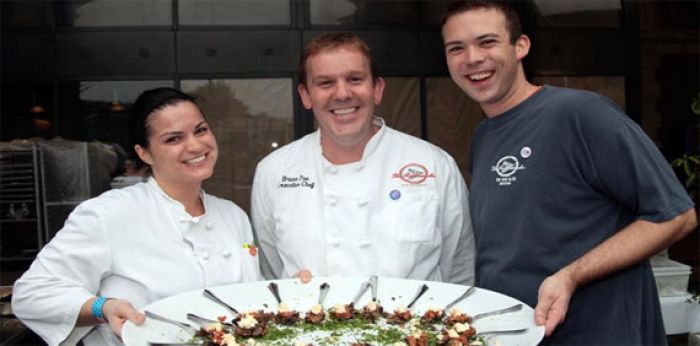 Photo Courtesy of The Seaport Hotel
You know it's officially summer in Boston when the annual "Chefs in Shorts" event is being held. This year, the
food event
is being held this Friday at the Seaport Hotel & World Trade Center where you can dine on some of the city's top chef's grilled creations, all to benefit Future Chefs, a local non-profit school-to-career program focused in culinary arts.
This year's chefs include:
Antonio Bettencourt, 62 Restaurant
Richard Garcia, 606 Congress
David Daniels, Aragosta Bar & Bistro
Brian Dandro,Art Bar at the Royal Sonesta
Robert Tobin,Aura & Tamo at the Seaport Hotel
Tim Cuniff,Backyard Farms
Jay Silva, Bambara
Allesandro Da Silva, Barking Crab
Jason Santos, Blue, Inc.
Mark Sapienza, BOND at the Langham Hotel
Jarrod Moiles,BOKX 109 American Prime at Hotel Indigo
William Kovel, Catalyst
Jonathan Gilman, Church
Rodney Murillo, Davio's Northern Italian Steakhouse
Derek Barragan, Del Frisco's Double Eagle Steak House
Corey Johnson & Jeffrey Stevens, Flour Bakery
Alex Aratake, Haru
Harjit Singh, Kashmir
Andy LaVallee,LaVallee's Bakery Goods
Patrick Keefe,LTK Bar and Kitchen
Matthew Barros, Market at the W Hotel
Ranveer Brar, Mela
Chris Damien, Papagayo
Philip Rotondo, Philip R's
Brian Poe, Poe's Kitchen at the Rattlesnake
Jackie Kelly, Remy's Sports Bar & Grill
Darren Carbonne, Rosa Mexicano
Karen Hodsdon and Richard Rayment, Seaport Hotel Boston
Maura Kilpatrick, Sofra Bakery
Mark Gaier & Clark Fraiser, Summer Winter
Chris Douglas,Tavolo & Ashmont Grill
Todd Hall, Temazcal
Mark Porcaro, Top of the Hub
Andy Husbands, Tremont 647
Suzi Maitland, Trina' Starlight Lounge
ParisRetana,TTT (The Taco Truck)
Armand Toutaint,Turner Fisheries
The event is being held at The Seaport Hotel & World Trade Center, 200 Seaport Boulevard in Boston on Friday, June 22 from 7 p.m. to 9:30 p.m. Tickets are $70 per person, which includes beer, wine and food tastings. To purchase tickets, visit
SeaportBoston.com
.
Kellie K. Speed
As the Boston city guide editor for JustLuxe, Kellie Speed is a native Bostonian and a freelance writer/editor/copywriter with more than 20 years expe...(Read More)