By Tara Imperatore Dec. 20th, 2012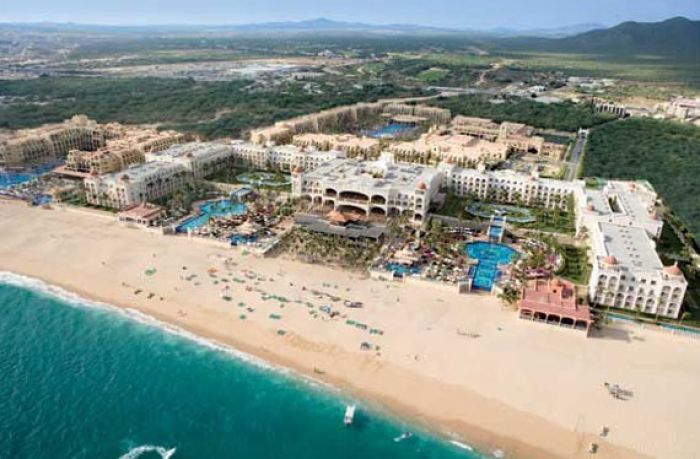 Photo Courtesy of RIU Palace Cabo San Lucas
I'd lived in San Diego for over four years without traveling to Mexico once. I had simply not educated myself on how temptingly close I was to 80 degree weather, endless frozen concoctions and cozy lounge chairs. Don't worry, I am now fully aware. Of course there are parts of the country that a young lady should not currently be exploring, but on the contrary, others are more than happy to welcome families, couples, solo travelers and young professionals alike to escape the everyday stresses back home (yes, sometimes a break is needed even from beautiful Southern California).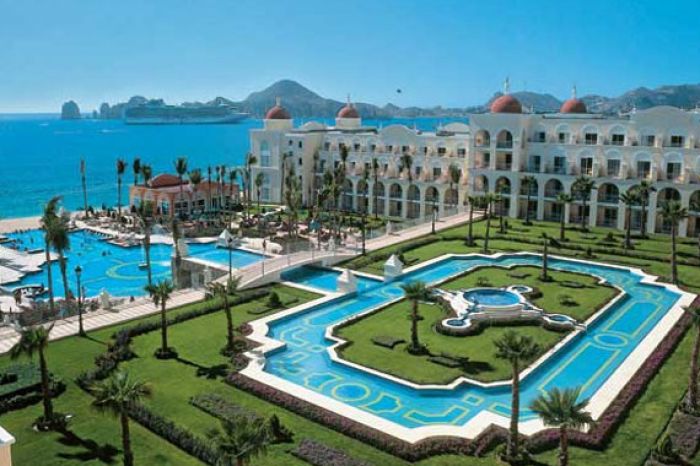 One of these popular Mexican hot spots is Cabo San Lucas, with its stretches of white sand, crystal clear water and impressive selection of beachfront luxury hotels all enveloped in a playful and adventurous atmosphere. With only a two-hour flight standing between me and some much needed R&R, it was time to make the big Mexican vacation decision: all-inclusive or pay as you go? RIU Cabo San Lucas made that decision easy. The all-inclusive resort strikes a satisfying balance between relaxed elegance and free-spirited fun, with luxury accommodations to boot.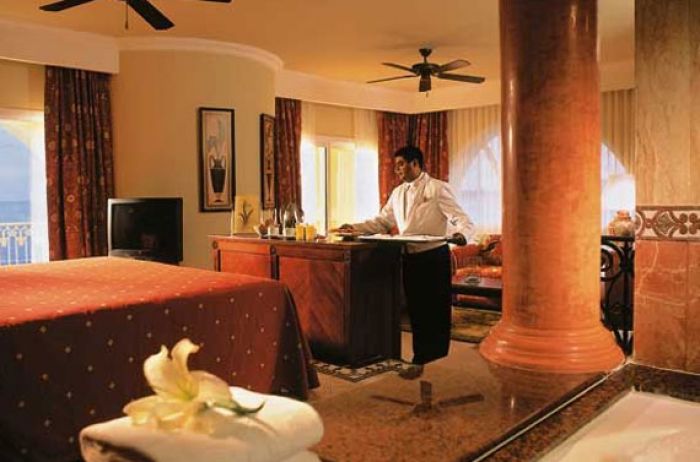 Making my getaway that much more memorable was a stay in one of the resort's Jacuzzi Suites. I opened the door to the room only to be in a short walkway toward another door to the rest of the suite. Before I enter however, I take notice of the liquor dispenser equipped with Jose Cuervo, Smirnoff vodka, Bacardi rum, and Canadian Mist whiskey along with a mini fridge packed with bottled water and soda. After those mental notes are taken, I step into the spacious living room that is separated by two marble stairs, from the elevated level which houses the king-sized bed.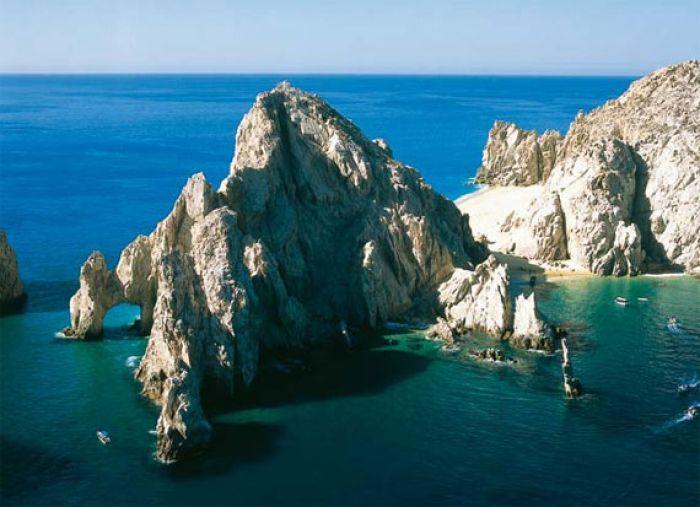 Just off the sleeping area is a huge open bathroom with a hydro-massage bathtub, separate shower and his and her sinks. There is also a walk-in closet containing a digital safe, two plush robes and plenty of room for luggage. After getting acquainted with the room's generous amenities, it occurred to me — it's not what's on the inside that counts (in this specific case, anyway) and so I make my way out onto the balcony to face stunning panoramic views of the Baja Peninsula and its famous El Arco rock formation in the distance.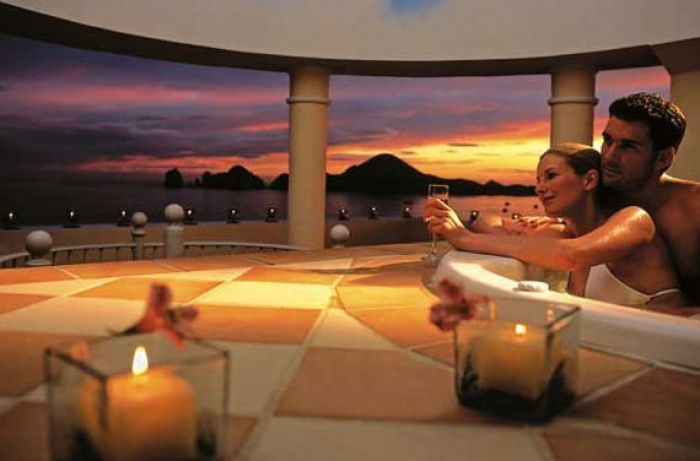 While all that would be more than enough to feel pampered and relaxed during my visit, the tour doesn't end there; this is one of their finest suites after all. Speaking of which, where is the room's namesake Jacuzzi? A trip up a white, iron spiral staircase off of the balcony reveals all: yet another private terrace with two lounge chairs, 360-degree views of the resort in its serene setting, and yes, the unaccounted for Jacuzzi. The large, round tub is set within a platform up five more stairs. Above is a dramatic dome painted baby blue and white, which could either remind you of the clear Cabo sky or make you think you died and went to heaven.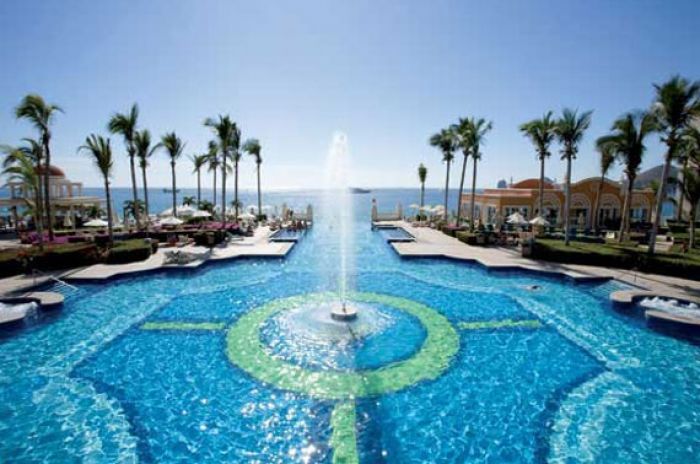 Though the weekend was a blissful blur, I do recall some divine moments in time: floating around the resort's many pools; swimming up the bar to grab a tropical cocktail; jet skiing around El Arco alongside sea lions and pelicans; enjoying a delicious surf and turf dinner at the hotel's own steakhouse; and watching the sun set behind the rock formations from the rooftop Jacuzzi. As a first timer, I must say it was not a bad way to be introduced to Cabo San Lucas. And now that I have properly educated myself on how easy it is to escape the real world and wake up in a year-round paradise, I see a few more long weekends in the near future.

Tara Imperatore
Since graduating from Penn State University, Tara has dabbled in several different realms of the publishing world. From food writing to an opinion column to city guide editorials, her work can be seen in newspapers, luxury lifestyle magazines and various websites. As Associate for JustLuxe, she is busy sharpening her eye for all that is opulent around the world. She is also a freelance writer for ...(Read More)