By Merilee Kern Aug. 14th, 2009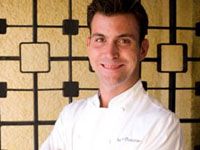 Fine Dining:
Located in the heart of Cabo San Lucas, Mexico's newest and most exclusive resort, Capella Pedregal, which made its much anticipated debut in July 2009,
Don Manuel's Restaurant
offers resort guests and visitors alike a contemporary South of the Border fine dining experience like none other.
Reached via Cabo's only privately-owned tunnel in Mexico, a 1,000-foot torch-lit passageway carved through a mountainside, this incredibly dramatic entrance to Don Manuel's at Capella Pedregal leads directly to the resort's arrival courtyard overlooking the Sea of Cortez, legendary rock formations known as "Land's End" and a breathtaking expanse of azure sky.
Don Manuel's, and the resort at large, boasts truly inspired décor by Paul Duesing Partners. The upscale, though entirely unintimidating restaurant has been styled as a "cocina," or Mexican hearth, which combines a living and dining room into one intertwined and entirely welcoming space that evokes a warm and homey sensibility. Traditional Mexican culture is reflected and celebrated throughout the restaurant's distinctive interior and hand-painted terracotta tableware, though deftly intermingled with sophisticated modern elements and a chic color palette of Kelly green, black and white. Among the restaurant's many notable visual points of interest are black and white patterned china plates affixed to the perimeter of the dining room's vaulted ceiling.
Although Don Manuel's is a fine dining establishment, it's also quite child friendly as I learned during my recent visit for dinner with my husband and ten- and seven-year old children in tow. Upon arrival I was happy to see other families with young children also enjoying Don Manuel's bright, airy and relaxing atmosphere and culinary delights.
Speaking of culinary delights, Per Se-trained Executive Chef Marco Bustamante has conceived the highest caliber resort cuisine with notable cultural flair. His season-inspired dishes utilizing farm-to-table ingredients -- locally grown exclusively for the resort -- employ old-world techniques reminiscent of the Baja culture. Among other of the restaurant's victuals, tortillas are handmade to order and Chef Bustamante's inventive menu on the whole features the sweet, the savory and, of course, the spicy.
Although my visit was for dinner, Don Manuel's does offer breakfast and lunch as well. Breakfast is set up like a Mexican marketplace where the chefs create a lively and interactive atmosphere by preparing frittatas and squeezing fresh juice tableside for guests. Light lunch dishes offer spa resort flair and are accented by refreshing Mexican Aqua Frescas, which are delicious scented waters. Both lunches and dinners may be paired with a fine selection of wines, champagnes and premium tequilas - with upwards of 400 selections to choose from in the restaurant's on-site, climate-controlled and downright gorgeous wine cellar with an intimate tasting room located therein.
The dinner menu is a foodie's delight, with a tempting selection of hot and cold appetizers and soups to duly rev up your appetite. The tapas-style starters range from $8-$18. Cold appetizer highlights include Blue Corn Cake Stuffed with Tiki Farms Fava Beans and Farmers Cheese; Baja Shrimp Aguachile, Cucumber and Avocado Salad, Coriander Crisp; Sea Bass Ceviche, Coconut Milk, Serrano Chile and Apple; and Ensenada Tuna Carpaccio, Red Onion, Citrus and Aji Amarillo.
Hot appetizer standouts include my party's two orders: Certified Angus Beef Meat Balls with Quail Egg, Crispy Garlic and a Chipotle Sauce; and three enormous Garra de Leon Sea Scallops "al Pastor," with Roasted Pineapple, Avocado and Cilantro. Other tempting options include a Tasting of Empanadas, Corn Mushroom, Squash Blossom, and Mushrooms with Epazote; and Date and Chorizo Cazuela with Spicy Tomato Sauce. Two soups are also available: Pacific Red Lobster with Hominy, Radish and Oregano; and Local Yellow Corn, Saffron Aioli, Chili Piquín and Corn Consommé. In advance of the appetizers, fresh baked bread rolls of various types are also served as standard along with a small crock of butter topped with a pinch of Argentinean salt.
Dinner entrees, with prices ranging from $28-$62, feature fresh fish and meats as well as a few mouth-watering platters to share. I opted for the Chef's suggestion of the Banana Leaf Wrapped Ensenada Black Sole in a Tomato, Caper and Olive Sauce all served in a crock-style bowl so the ingredients could be easily intermingled. This rich and hearty dish was like comfort food with each bite eagerly consumed. Another seafood standout was the Black Cod with Cajeta de Habanero, Braised Tomato, Purslane and Piloncillo. This unusually sweet fish dish has a caramel flavored sauch and is topped with fresh sugar cane shavings. Although this was my husband's dinner entree, I couldn't seem to keep my own fork out of it.
Delicious meat dishes are also offered, such as the Sonora Ribeye, Chayote, Sweet Potato and Chichilo Negro; the Citrus and Anatto Seed Braised Pork with Roasted Plantain, White Beans and Pickled Onions; and the Roasted Lamb Loin with Adobo, Swiss Chard, Apple Puree and Mint. Two traditional Mexican family style feasts for sharing are offered: Roasted Carrizal Ranch Suckling Pig with Fava Beans, New Potatoes and Chile Ancho; and the Whole Roasted Red Snapper, Mexican Pepper Leaf, Pickled Vegetables and Coconut Rice.
For my kids' part, they each thoroughly enjoyed a decidedly large cheeseburger with French fries and fresh pickles made in-house and served in small mason jars. A family friendly restaurant indeed.
Desserts at Don Manuel's are sinfully divine. The equally innovative dessert menu includes Vanilla Poached Plantains with Mexican Pepper Leaf, Strawberries, Tequila Banana Ice Cream; the Ensenada Olive Oil Cake, Ancho Chile Fudge, Fruit Mole and Cocopiña Sorbet; and the Pistachio Tart, Marinated Peaches, Caramelized Sesame Seeds and Red Wine Sorbet. Two of the dessert options are for sharing: one a trio of Guava Atole, Traditional Flan and Crispy Buñuelos. The other -- and my party's stellar selection -- is the Study of Mexican Chocolate from Yucatán, which contains chocolate configurations of crème brulee, mousse, cocoa bean brittle, liquor infused sorbet, and a decadent soufflé. This dish is an absolute must for any chocolate lover. The individual desserts run $9 while those made to share are $15.
A wide selection of after dinner drinks are available along with a myriad of fine cigar selections. I suggest you order one or both and head outside to the adjacent open air lounge area to listen to the waves crash to the shore as you enjoy your beverage, your smoke, and otherwise reflect on the exceptional meal and unsurpassed service you've just been privileged enough to experience.
Learn more about Don Manuel's at Capella Pedregal online at
www.capellapedregal.com
.
- Merilee Kern
JustLuxé.com's "The Luxe List" Executive Review Editor
The Luxe List product, service and travel review editor Merilee Kern scours the luxury marketplace for new and captivating "musts." Submissions are accepted via e-mail at Merilee@JustLuxe.com. View all of Merilee's Luxe List articles from here (scroll to page bottom).
Merilee Kern
Branding, consumer product trends, leisure and lifestyle expert Merilee A. Kern is a good life connoisseur who keeps her finger on the pulse of the marketplace in search of new and innovative must-haves and exemplary experiences at all price points, from the affordable to the extreme. The best of the best across all product, service and travel categories–as well as noteworthy marketplace change ...(Read More)