By JustLuxe Team Jun. 11th, 2012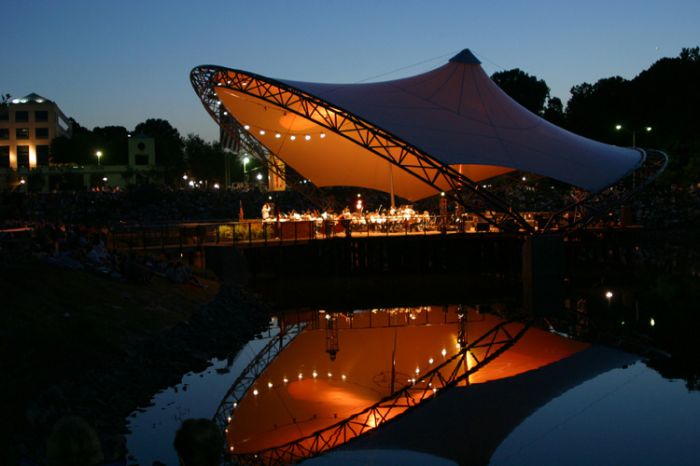 Photo Credit: Jeff Cravotta/Charlotte Symphony
The Charlotte Symphony's Summer Pops has returned and this year the outdoor concert is sure to be another success. Held at Symphony Park at the South Park Mall, Summer Pops has a full schedule spreading all the way to July 3, 2012.
Starting June 10, fans of the yearly event may be pleased with the recent change to the schedule; instead of opening the gates at 4 p.m., they now won't open until 5 p.m. The change is meant to be more convenient to guests, cutting down the time between arrival and show-time. Every concert has a prelude performance that starts promptly at 7 p.m., with the symphony taking the stage at 8:15 p.m. every night. The conductor, unless announced otherwise, will be Albert-George Schram.
With tickets priced at $10 for adults and children younger than 18 getting in for free, Summer Pops is the perfect
music event
for a hot summer night.
Summer Pops Lineup
"Symphony Park Serenade," June 10. Prelude: The Brubakers.
"Symphonic Passion," June 17. Jacomo Rafael Bairos conducting. Prelude: Alan Barrington.
"Vive La France" June 24. Prelude: Michael Reno Harrell.
"Three Great American Composers: Gershwin, Bernstein and Rodgers," July 1. Prelude: Tenya Coleman, jazz singer.
"Celebrate America!" July 3. Prelude: The Gold Standard Chorus.
For more information visit
CharlotteSymphony.org
JustLuxe Team
The JustLuxe Team strives to bring our members and readers the very best in luxury news and conversations. We love to hear your opinions and suggestions, but most of all, we love to interact with you. ...(Read More)