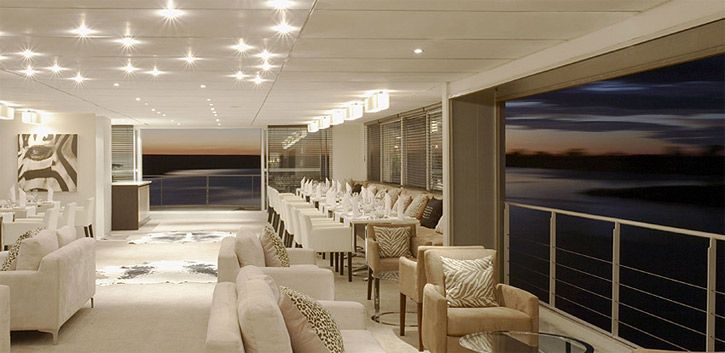 Photo Courtesy of AmaWaterways
The Zambezi Queen from AmaWaterways is a
luxury boat
designed with specifications that make it perfect for cruising on the Chobe River in Botswana, Africa. This area of the country is the place to see regional wildlife and inspiring landscapes. The Zambezi Queen can hold 28 passengers, providing stately rooms and suites with luxury amenities. The staterooms have around 300 square feet, double or single beds and a private balcony.
Guests can take advantage of three different experiences including, Stars of Africa, African Sunsets, and Golden Trails of Africa. Each range between 16 and 19 days, taking visitors to some of the continent's most beautiful national parks and cities, filled with both cultural beauty and natural wonders. Witness the vibrancy of
Cape Town
and check out the flora and fauna of Kruger National Park with the Stars of Africa Tour. Or, spend a night in Nairobi, a week on various game reserves, and experience a four night safari cruise during the Golden Trail of Africa adventure.
The craft also provides incredible fine dining options. The restaurant, located on the third level, offers beautiful views from all three sides and opportunities to sample exotic dishes that feature fresh, local ingredients. Try butternut and macadamia soup, or fillet of beef with bordelaise sauce. The Zambezi Queen is the epitome of
luxury travel
, including a stately library as well as a glamorous lounge and bar. The top deck is the ideal spot to sunbathe while keeping an eye out for exotic African animals. Enjoy the pool while sipping on a hand-crafted beverage.
The Zambezi Queen is also proud to be an eco-friendly experience, utilizing solar heating systems, water jet propulsion, and high-end biodegradable soaps and detergents. For more information visit
AmaWaterways.com
.