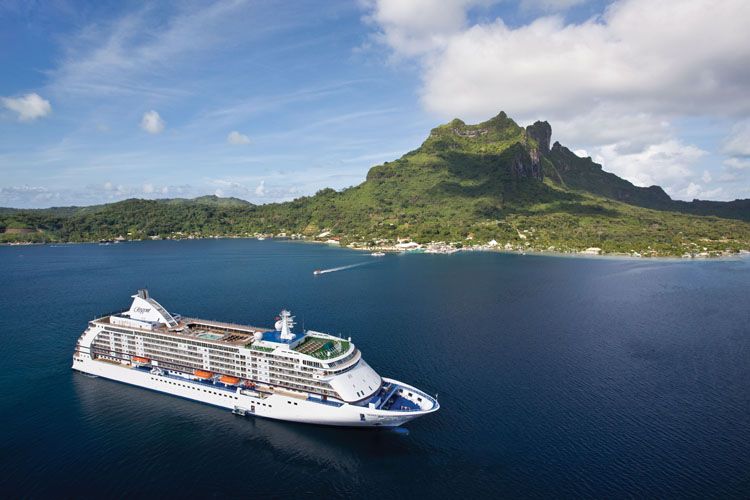 Photo Courtesy of Regent Seven Seas Voyager
Luxury cruises
have always been the one-stop for all-encompassing entertainment, giving guests a complete sensory experience on the sea. With routes to Africa and India, Asia Pacific, Mediterranean, and Northern Europe, Regents Seven Seas Voyager is the premier cruise experience that strictly houses suites, each with its own balcony. Massive in size but modest in guest allowances, the Seven Seas Voyager will give you everything you could ever want while soaring towards the horizon.
As a guest on the Seven Seas Voyager you can feel pampered knowing that within the lavish 670 foot long ship, you will only be one of 700 possible guests, ensuring that you will be personally served to your satisfaction. There are a plethora of lavish suite options within the nine passenger decks, ranging from Deluxe suites to Master suites. Regardless of the suite you choose, you will have your very own private balcony, marble bathroom, state-of-the-art amenities, and a walk-in closet with a safe within.
The largest suite at 1,403 square feet is the Master Suite. With private butler service, the suite features two balconies, two marble bathrooms, two European king-size beds, a sprawling living room, complimentary cocktail party, and various
luxury services
. While the Master Suite is huge, even the smaller of the suites, the Deluxe Suite, is a comfortable 356 square feet. Guests in the Deluxe Suites will enjoy the ocean view from their own private balcony or from their plush sitting area. With a stocked refrigerator and an interactive flat-screen television, you will feel completely at home on the sea.
When not resting in your lavish suite, Seven Seas Voyager will ensure your entertainment through your access to a Casino, Constellation Theater, a Cigar Bar, and several Lounges. Open every day, the Casino is the perfect place to scratch that gaming itch. With blackjack, roulette, stud poker, mini-craps, and slot machines, guests can relax as they enjoy some friendly gambling. The Constellation Theater is a gorgeous show lounge that brings you some of the finest entertainment found on any ship. The two-tiered room has an array of options, including a swing night where the Big Band Era plays music worthy of swing dancing. After full nights of games and dancing you may want to relax in one of the various lounges where you can unwind amidst the night stars.

Canyon Ranch Spa Club is always on board to offer guests their very own fitness center and
luxury spa
, where they can make sure to keep up on their beauty and fitness routines. Within the fitness center one can find all the equipment ever wanted as well as various exercise classes, including Pilates and aerobics classes. One-on-one training with a fitness expert is also available should you need specific training. Taking a trip to the spa is the perfect choice after sweating at the fitness center. You can rejuvenate your sun-kissed skin and weary muscles with signature massages, therapeutic treatments, and various conditioning body scrubs. Also on board are golf cages, a full-circle jogging track, paddle tennis, and a large heated pool.
Cruising at a comfortable 20 knots, the Seven Seas Voyager is perfectly designed and crafted for luxury and comfort. With four different dining rooms to choose from, each dedicated to Le Cordon Bleu cuisine, you will find a floating paradise aboard Seven Seas Voyager.
To learn more about all Seven Seas Voyager has to offer, visit
rssc.com