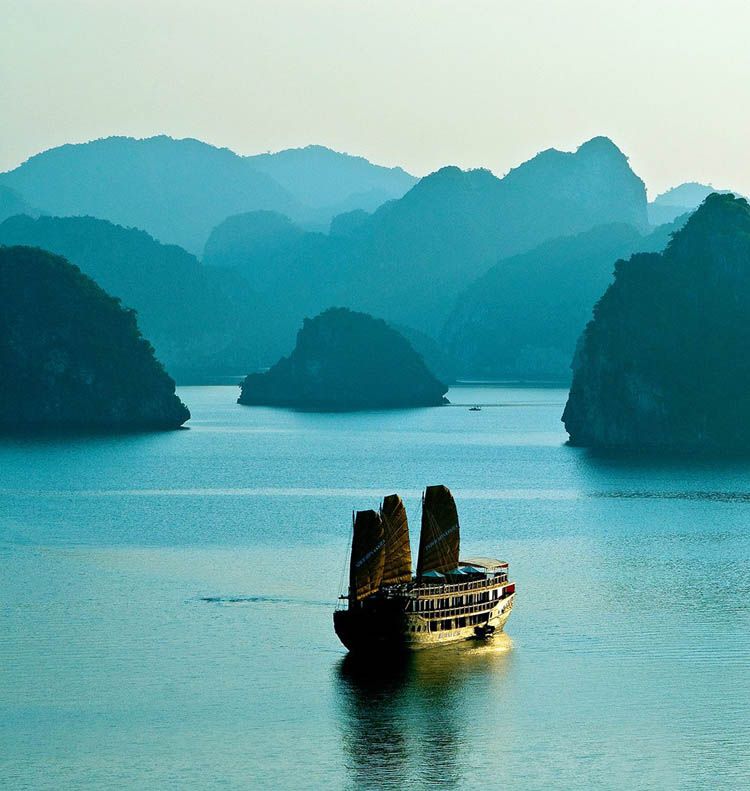 Photo Courtesy of Indochina Sails
Indochina Sails, an extension of
luxury cruise
company Huong Hai Junks, boasts over ten years of experience, bringing guests from all over the world to the beauty of Halong Bay, Vietnam. Featuring tropical weather, guests aboard a cruise through the bay should expect warm, humid weather in the summer and cold, dry weather in the winters. Regardless of the season though, guests will be able to witness limestone karsts (which have undergone millions of years of various environments), isles in assorted sizes, and many caves with ancient legends surrounding them. Set in Quang Ninh province, the Halong Bay has a rich history and we think it would make for a beautiful
luxury vacation
.
As one of the first companies to offer overnight cruises, Indochina has six vessels in their fleet, each designed to reflect a traditional Asian style, while still supplying guests all the modern amenities needed. All of their boats have spacious cabins with large en-suite marble bathrooms (complete with massage showers), sundecks, freshly cut flowers, dining rooms and bars. Rich wood and large windows accent the rooms, with luxurious linens covering the bed to ensure a good night's sleep. The rooms vary depending on which of the six ships you choose for your cruise, whether it be one of the four Indochina Sails or one of the two Valentine vessels.
Two Premiums ships are available, the Indochina Sails Premium and the Valentine Premium, each offering guests more space and more exclusivity. The Valentine is a full-service vessel and offers everything the other larger boats do, except this one only has two deluxe cabins on board. The Indochina Sails is the newest to the fleet and features 24 cabins, a massage cabin, and a gym. With bigger windows than any of the others, guests will be able to relax in the lounge without having to sacrifice views of the bay.
Halong Bay, only 105 miles from Hanoi, is a UNESCO World Heritage site and considered to be one of the most beautiful places in the world. Guests will be surrounded by hundreds of lush islands, each with names that reflect their unique shapes, like Voi Island (Elephant), Ga Choi Island (Fighting Cock), and Qua Chuong Island (Bell). The over 900 islands are said to have been created when God sent a group of dragons to help the Vietnamese fight invaders. When the dragons spit out jewels and jade, the islands were formed and blocked the invaders' path. Once the dragons decided to stay in peace, many of the islands were given names to honor them. Bai Tu Long Island is where the young dragons looked after their mothers and Back Long Vi Island is where young dragons played in the sea and wriggled their tails.

Guests are sure to be charmed by the many legends as they cruise through crisp waters and admire Mother Nature at her best. Indochina offers a cruise for two days and one night, and a cruise for three days and two nights, each with an exciting itinerary. On the first day guests will be taken to Luon Cave and explore it by either bamboo boats or kayaks. Titop Island is next up, where you can swim at the beach or hike up the mountain for photo opportunities. Day two will bring a Surprise Cave visit, where one can find a small fishing village and visits to some of the area's most untouched locations.
Rates vary depending on cabin type, cruise length, and season but can range anywhere from $330 to $788 per cruise. The rates include sightseeing fees, tour guides, and insurance.
For more information visit
IndochinaSails.com