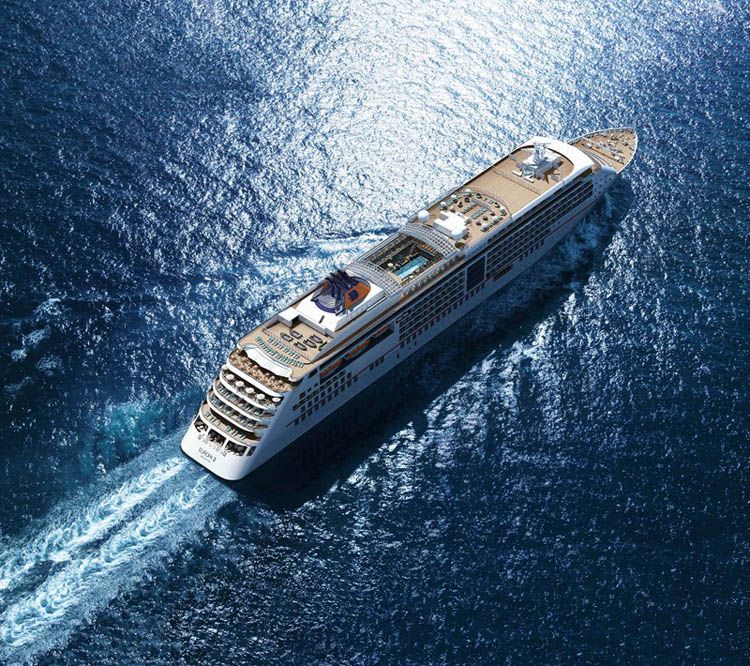 Photo Courtesy of Hapag-Lloyd Cruises
Considering that her predecessor,
Europa
has been one of the world's top rated
luxury cruise
ships since her introduction in 1999, it is no surprise that Hapag-Lloyd Cruises' newest ship,
Europa 2
is, a year before her introduction, creating quite a buzz. Whereas the first
Europa
was more formal and perhaps designed with an older demographic in mind,
Europa 2
caters more to executives and their young families. The new ship merely demands that you dress casually smart and enjoy the relaxed lifestyle on board rather than the strict cruise rituals we've all become accustom to.
One unique feature helping families make the most of their cruise experience is
Europa 2
's child care specialists. They are available to ensure children ages two and up have as much fun as their parents and get to see and do the activities they love through the ship's Knopf Club, Kids' Club and Teens' Club. Eight different types of suites play host to groups and families of all sizes including 16 spa suites, seven family apartments and 59 ocean suites all with their own veranda, separate living area, 24-hour butler service, flat-screen TV, Wi-Fi, and tablet PC.
The ship includes eight restaurant choices inspired by a variety of Eurasian cuisine. Each of the stylishly appointed dining venues offers an informal experience, free of dress codes and strict reservation times. Restaurant Weltmeere is the largest on board with a menu that constantly changes to meet the culinary demands of its guests, even featuring a vegetarian menu. Restaurant Tarragon will remind diners of a French brasserie with charming décor and delicate dishes. Guests will also find a sushi restaurant, a grill with buffet, and Italian and Chinese options. If you want to sit down to a private meal with a select list of attendees, the Dining Room, with its maritime ambiance, is the place to do it.
A chance to leave the kids with the "nanny" and enjoy sometime away from it all is at the OCEAN SPA. This 6,600-square-foot facility includes eight treatment rooms, four saunas, a whirlpool, Kneipp pool, ice fountain and contains a menu with everything from manicures to massages to hairdressing services. There is also a Personal Spa available by the hour or by the day with its own sauna, whirlpool, massage beds and lounge area where guests can really get away from it all and unwind in pure solitude.
Europa 2
entertains its guests with exclusive stage performances featuring renowned producers, directors and choreographers in musical genres ranging from pop, swing and dance, Latin, soul and jazz, singer/songwriter or classical. Cooking classes also keep cruise-goers busy as the ship's head chefs and international guest chefs teach their craft on state-of-the-art equipment and demonstrate how to plate like a pro.

Europa 2
will be ready to set sail May 2013 on Western and Eastern Mediterranean cruises (7-day combination voyages in spring, summer and autumn 2013), and Arabian Peninsula and Asia (14-16-day combination voyages in autumn and winter 2013 and spring 2014).