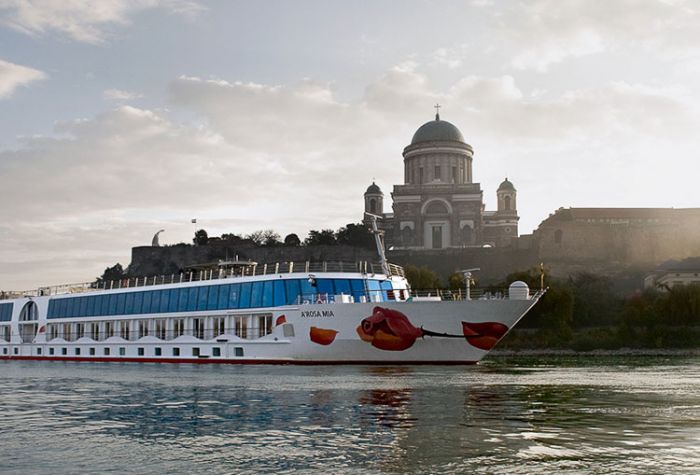 Photo Courtesy of A-ROSA
Planning a European vacation can be highly stressful and time-consuming with so many cities and historical places on the map. After all, it is one of the world's most culturally rich continents. Isn't it standard to pack too many destinations into too short an amount of time, making travelers feel as if they need a vacation upon their return? Since it generally takes a few times to get right, if you have the resources, why not let someone else do all that work. All-inclusive luxury travel company A-ROSA might be able to relieve the stress and hassle of trying to plan the perfect European vacation. Their pre-planned packages claim to let travelers relax and live life like a local.
Since 2000, A-ROSA River Cruises have been sailing European waterways with excursions along the Rhône, Saône, Rhine, Mosel, Main, and Danube rivers. Previously appreciated by mostly European travelers, A-ROSA is seeking to expand their services to the US and Canadian market. Beginning in 2013, the company will commission David Morris International to be its exclusive North American representative. With the goal of making European river cruises accessible to a larger base, DMI will be responsible for launching and overseeing the A-ROSA brand in the US and Canada. Well-versed in handling luxury-based travel companies, DMI will also specialize itineraries to suit the tastes of North American travelers.
A-ROSA's detailed vacations intend to make travel easier for those wanting to experience the splendor of Europe's premier destinations. They offer a variety of trips aboard a 10 ship fleet and let passengers disembark to explore local villages, museums, and castles. The company encourages voyagers to really become part of a town's daily life. For next year, customers can choose packages like the Christmas getaway visiting Amsterdam, Vienna, and Heidelberg in order to experience the charm of famous holiday markets. This could be a relief for those looking for a more intimate European adventure who have previously found it difficult due to outdated guidebooks and language barriers.
David Morris International will be creating itineraries specially designed to satisfy the North American traveler's curiosity for food, wine, art, and antiquity. Passengers will be able to learn history and taste the regional cuisines from Budapest to Provence. There are already a few excursions from which to choose on the company website. For the exercise minded, there is a "Discovery Tour" which provides a touring bicycle to peruse the landscape. Eliminating worries over exchange rates, A-ROSA's inclusive price covers airfare, transfers, taxes, gratuities, food, and drinks (yes, that includes alcohol – this is Europe). Shore excursions are also provided by the company. Let's hope all there is left to do is take in the dynamic culture of Europe.
With so much to see and do on land, it might be easy to forget about the high-end amenities offered onboard A-ROSA's elegant ships. The boats are outfitted with a sundeck, putting green, shuffleboard, and gym. To relax, you will find a pool and whirlpool, and the spa offers such luxury treatments as a Hawaiian Lomilomi massage. One extravagant feature is the sauna encased in one-way glass so you can view the passing shore as you wind down. At night, performances are given by select entertainers, and dining is casual with no dress code and indoor and outdoor seating. And if you're looking for that little something extra, A-ROSA suggests the exclusive Wine & Dine option — a four-course meal with a selection of wine from the ship's private supply. All guestrooms have modern amenities like TV and AC.
David Morris International, founded in 2009, is excited to be representing its "new and prestigious client." President David Morris has over 30 years of cruise line experience and says "We are honored to announce representation of A-ROSA River Cruises, which has earned a stellar reputation in Europe and continues to enhance the experience for their guests." Executive VP Marilyn Conroy adds, "We have experienced first-hand the outstanding service delivered with genuine warmth by their crew, the cuisine that rivals even the best at sea, and comfortable accommodations where you will feel at home, before the ship has even set sail." The DMI team is comprised of industry veterans who have worked at Silversea, Delta Queen Steamboat Company, Royal Caribbean Cruise Lines, and Crystal Cruises. Travelers can expect to benefit from their years of professional service.

A-ROSA River Cruises are based in Rostock, Germany and currently operate 10 luxury ships in select European regions. They offer all-inclusive packages for guests seeking an active, but casual holiday. One of the hesitations many might have regarding cruise travel is that it can be monotonous with nowhere to go other than the pool or guestroom. A-ROSA mitigates this concern by providing voyagers an opportunity to get an up-close and personal look inside the lives and activities of Europeans. Younger guests and those not wanting too much leisure time will benefit from the busy itineraries. For example, Francophiles can enjoy the seven-night "A Toast to Provence and Burgundy" package aboard the A-ROSA Stella which starts at $4,802 per person. In it they will discover the French countryside, wines, and vineyards. And if you hurry, you can participate in the traditionally spectacular German Christmas Markets with an eight-night cruise aboard the A-ROSA Silva which begins at $5,276 per person.