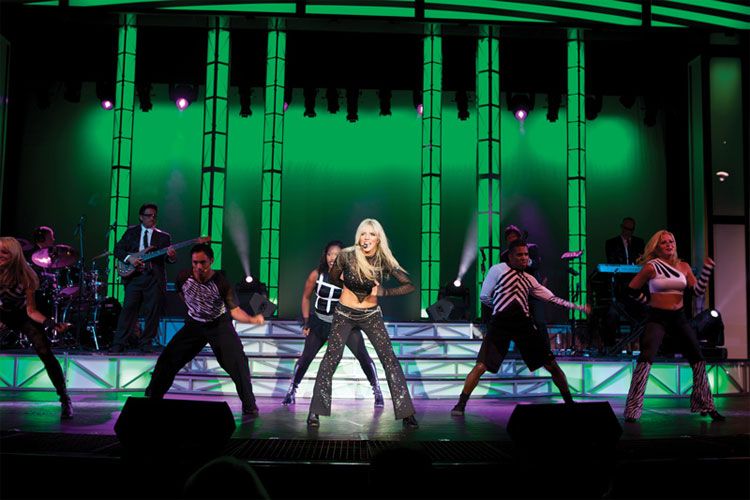 Photo Courtesy of Norwegian Cruise Line
How would you like to go on vacation with the handsome men of Mumford & Sons? Imagine the wind blowing in your hair and the sparkling blue ocean waters in the distance. Well, unfortunately, you probably can't do that, but we have another option that might be just as great.
Norwegian Cruise Line
recently announced its partnership with The Recording Academy® to feature the first GRAMMY® Experience at sea. The musical event will officially launch fall 2014 on the cruise line's newest ship,
Norwegian Getaway
. Furthering their collaboration, Norwegian Cruise Line has been named "Official Cruise Line Partner of the GRAMMY Awards®."
Photo Courtesy of BusinessWeek.com
As guests make their way onto Deck 8, they will be met with memorabilia on loan from Downtown LA's GRAMMY Museum® at L.A. LIVE to get them in the mood. The best part of the experience? The evening performances by GRAMMY® winners and nominees, of course. Travelers could have the opportunity to explore
(or roll in)
the deep blue seas with Adele's sultry sounds or perhaps groove to the smooth sounds of Frank Ocean while enjoying cocktails with friends.
Photo Courtesy of Grammy.org
"The Recording Academy is always looking for unique ways to elevate the GRAMMY® brand and extend the GRAMMY® experience throughout the year," said Neil Portnow, President/CEO of The Recording Academy. "This new partnership with Norwegian Cruise Line allows us to continue expanding our brand's reach globally and bring new forms of GRAMMY-themed entertainment to music fans everywhere. We couldn't be more pleased with this new alliance between one of the leading cruise lines and one of the most credible and recognized brands in music."
Photo Courtesy of Norwegian Cruise Line
The new ship is already creating buzz with its groundbreaking design that features an open-air boardwalk and a range of indoor and outdoor venues. Adding to the star power on board, Celebrity Chef and Food Network star Geoffrey Zakarian will be at the forefront of his new seafood restaurant, Ocean Blue by Geoffrey Zakarian.
Photo Courtesy of S.S. Coachella
While not a new trend, the partnership between cruises and concert promoters seems like a great way to bring together avid travelers and the music community. In 2012, Coachella Music Festival also chartered new waters with their music fest taking to the high seas for the first time aboard the
S.S. Coachella
. And prior to that the Mayercraft Carrier hosted music-lovers for days at sea with John Mayer (of course) and other artists like Justin Nozuka and O.A.R.
Photo Courtesy of Norwegian Cruise Line
Come February 2014, Norwegian Getaway will begin sailing seven-day cruises from Miami to the Eastern Caribbean with ports of call including Philipsburg, St. Maarten, St. Thomas, U.S. Virgin Islands, and Nassau, Bahamas. The GRAMMY® themed cruise will commence during the fall of that same year. More details will be revealed in the coming months regarding the GRAMMY® Experience venues, cruise and actual performances, but we'll be crossing our fingers for all of those named above.