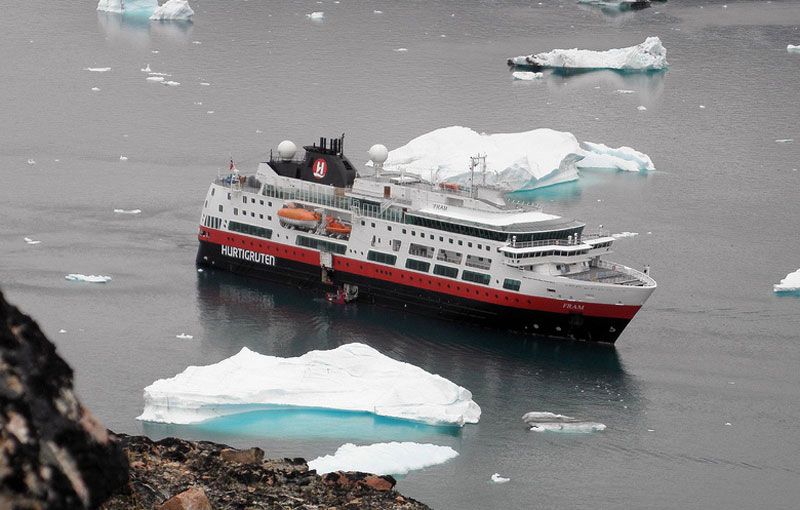 Photo Courtesy of Hurtigruten-Neck Ernst
Over the course of 10 months, two barrels of decades-old single malt whisky will join passengers on Hurtigruten's expedition ship, the MS Fram across the northern and southern polar circle, the zero meridian and the equator. The distillery (yet to be named), hopes that the voyage will further enhance the quality of the single-Highlands malt scotch. The American oak barrels began their journey in October 2013 and will be bottled in July 2014 with their own unique label: the "MS Fram Expedition Whisky."
Photo Credit: Gillies Zaiser

With the temperature changes of the sea air, the rolling wave movements and after a 78,000-mile voyage, Hurtigruten's anticipates that the combination of elements will create a higher quality of whisky. After its journey, the cask-strength whisky will be bottled directly from the barrel and will be sold in the fall. There will only be 200 bottles per barrel and will be sold in the ship's gift shop along with a whisky diary and certificate. And those hoping to try the liquor before purchase can do so onboard during the MS Fram Whisky Project months.
Photo Courtesy of Shutterstock
Offered during the spring, two voyages will focus on whisky and its origin during a 12- and 13-day trip to Scotland. Setting out from Bergen, Norway, each trip will include discussions from a Scottish lecturer and whisky expert. Departing April 24 and hitting destinations such as Scotland, Ireland and England, the 12-day British Isles in Spring itinerary starts at $3,577 per person, double occupancy. Starting at $4,236 per person, the 13-day itinerary titled The Viking Route will make its way through Scotland, the Faroe Islands and Iceland departing on May 13.
Photo Courtesy of Hurtigruten
Photo Courtesy of Hurtigruten
Photo Courtesy of Hurtigruten