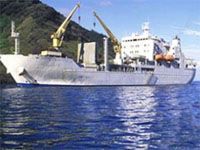 Adventure Cruises:
The last person to lift me off a boat was my father, and that was many years ago when I was about 100 pounds lighter. Now it's happening again - this time tattooed men with arms of steel are levitating me from my freighter to a shore-going whaleboat. I'm about to set foot on yet another magical tropical island.
I'm on the Aranui 3, a luxurious 3800 tonne cargo/passenger ship that links the remote Marquesas Islands and the rest of the world. Between her visits, the rest of the world has precious little influence here.
It takes two days sailing from Tahiti to reach the most distant island, a speck in a vast blue ocean. As the man said: "it's not quite the end of the world, but you can see it from here."
This is no fancy-dan cruise on a vast liner. If you want that these days, you'll have to travel with up to 5000 other people. Here you're sailing in style with a group of less than 200 passengers and a crew of 50 and you share the ship with a cargo of cement, cars, frozen chickens and beer.

The Aranui is one of the world's last freighters to mix passengers and cargo and it does it 16 times a year from Papeete to the Marquesas and Tuamotu Islands. It is virtually the last in the line of South Seas trading ships that enthralled the likes of Jack London, Herman Melville and Robert Louis Stevenson.

All the above knew these seas well, as did French artist Paul Gauguin and tragic Belgian songwriter Jacques Brel, who share what has to be the world's best located cemetery on Hiva Oa.


The freighter is run by Tahiti-based Laurent Wong and his family. It's a purpose built ship, constructed a few years ago in Romania, then skippered down the Danube and through the Black Sea before reaching home base in Papeete.

Unless you have an ocean going yacht or private plane it would be difficult to see these islands and their people without the Aranui. And in my view, you wouldn't want to - Stevenson's assertion that travelling hopefully is better than arriving is just about true in this case.

Half the fun in the 13-day odyssey is coming to grips with life on a freighter. You watch the crew - mainly highly skilled Marquesans covered in tattoos - unloading and loading at each little harbour. When they finish their tasks they generally reach for beers and ukuleles and start to sing. No, not like Tiny Tim - like the warriors they once were.

Sunrise, sunset ... watching the skies turn red quickly becomes a habit and the best place to see the spectacle is from one of several decks. One magnificent sunrise coincides with the awesome entrance to Invisible Bay on the island of Nua Huka.
Here the skipper - under the close gaze of enthralled travellers - threads the boat between towering cliffs then does a kind of handbrake turn, swinging 180 degrees to face where we had just been with only a few metres to spare on each side. That little bit of extreme seamanship earns him a big hand every time, together with praise for the nimble matelots who leap from a dinghy on to a sheer rock face to make fast the hawser.

And all this before breakfast, which in true Gallic fashion is a feast of eggs any way you like them, croissants, pastries, fruit and excellent coffee. Lunch on board is a three-course affair with lashings of wine (French, of course), and dinner is, if anything, even bigger.

On this valiant vessel there's not much time to get bored. There's a library, bar, lectures, photographic displays, Polynesian dance classes, gym, pool, video room, boutique and a cosmopolitan group of fellow travellers. If you're feeling queasy, there's also a doctor.

Getting ashore can be an interesting procedure. You totter down wobbly stairs lashed to the side of the ship then scramble on to a waiting whaleboat. Here you're manhandled with great vigour and precision by crewmembers and the same process is followed when you reach shore.

Wildly enthusiastic tour guides urge you to take a 17km hike on a mountain track in extreme heat and almost total humidity. Fortunately there is a civilised alternative - you stroll ashore, find a shady place in an interesting little town, sip a Hinano beer, watch a game of petanque and sit very, very still. That generally wins about half the passengers and gets me every time.

Accomplished scuba divers get opportunities to explore the fish-rich depths; snorkelling is available at several locations and is best in the sheltered atoll reefs.

If you're on an island around lunchtime chances are you'll be taken to see some ancient stone carvings - tikis - in the jungle, watch some dancing girls and warlike tribesmen, then drop into a restaurant to see a pig and various other foodstuffs being hauled from an earth oven, Maori style. This can be an imprecise cooking method, but in the Marquesas it seems to work.

The cruise visits two coral atolls in the Tuamotu group - Fakarava and Rangiroa - where the highest point is only three metres above sea level and they're seriously worried about global warming.

However the six Marquesan islands visited are much more rugged, with spiky mountains soaring over 1000 metres and dense undergrowth threaded with brilliant tropical flowers. King Kong would like it here - most of the islands are gothically spectacular and the spires of Ua Pou are almost dreamlike; contorted towers shrouded in cloud.


Threading through this pattern of islands the Aranui picks up copra, bananas, limes and bottles of noni juice - evidently wildly popular as a remedy against growing old, growing fat, growing thin, broken legs, baldness, infertility, fertility, dropsy, ague, plague and other ills to which the flesh is heir.

Without the Aranui the cure-all compound would never leave these shores. More importantly, without her the world of adventure travel would be a much poorer place.

For further information and travel deals go to www.aranui.com; www.tahitinow.com.au

For JustLuxe Paul Edwards