Vancouver hotels With so much to do and see in Vancouver, it's easy to find the right hotel.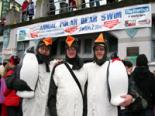 Polar Bear Swim
Leaping into icy water in the middle of winter may not be everyone's idea of fun, but the annual Polar Bear race has been running for nearly 90 years in Vancouver and every New Year's Day, thousands flock to English Bay to take the plunge and celebrate the beginning of the year, led by the Vancouver Polar Bear Swim Club (one of the oldest and biggest of its kind in the world). Outrageous costumes are the order of the day and many come to participate in the Peter Pantages 100 yard (90m) race,
Event Date: 1 January 2012
Event Time: 2:30pm
Venue: English Bay beach
Travel guide by (c) Globe Media Ltd. By its very nature much of the information in this travel guide is subject to change at short notice and travellers are urged to verify information on which they're relying with the relevant authorities. We cannot accept any responsibility for any loss or inconvenience to any person as a result of information contained above.