Riyadh hotels With so much to do and see in Riyadh, it's easy to find the right hotel.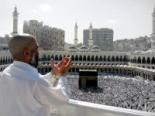 Haj
Haj is considered the duty of every able Muslim: a pilgrimage to Mecca, the birthplace of the Prophet Mohammed. It is the fifth and final pillar of Islam, guided by the prophet, and each year roughly two million devout Muslims take the journey. The pilgrims, or hajjis, wear white as a symbol of their purity and equality throughout the occasion whereupon all gather around the Great Mosque in Mecca to walk seven times around the Kabah shrine before kissing it, in one of the most famous displays
Event Date: 24 - 27 October 2012
Venue: Mecca
Travel guide by (c) Globe Media Ltd. By its very nature much of the information in this travel guide is subject to change at short notice and travellers are urged to verify information on which they're relying with the relevant authorities. We cannot accept any responsibility for any loss or inconvenience to any person as a result of information contained above.