Johannesburg hotels With so much to do and see in Johannesburg, it's easy to find the right hotel.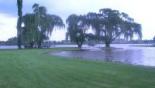 Vaal River Meander Wine Route
As the name suggests, this route is a casual, relaxed experience. Like a fine wine, it is meant to be enjoyed at leisure and taken in stride. 20 venues along the banks of the Vaal River are selected each year to showcase South Africa's most elegant wines, over a designated period of time. The route can be travelled by car, taxi or river cruiser. Game drives at the neighbouring reserves, golf on the nearby courses or a visit to the Emerald Casino (which has an indoor water world, bowling and m
Event Date: 9 July to 14 August 2011
Event Time: 12pm - 6pm
Venue: Various estates along the Vaal River. Inventory available online
Website: www.vaalwineroute.co.za
Travel guide by (c) Globe Media Ltd. By its very nature much of the information in this travel guide is subject to change at short notice and travellers are urged to verify information on which they're relying with the relevant authorities. We cannot accept any responsibility for any loss or inconvenience to any person as a result of information contained above.