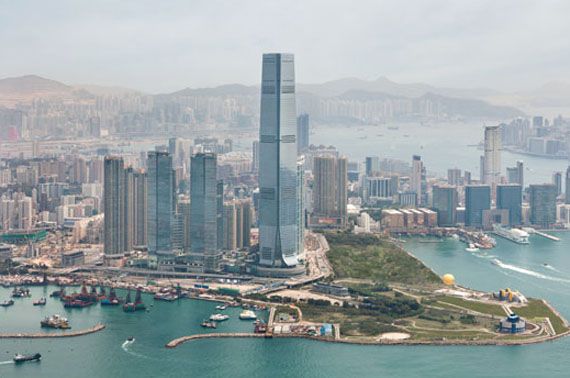 Photo Courtesy of Ritz-Carlton, Hong Kong
With the main lobby of this hotel located on the 102nd floor of the International Commerce Centre in
Hong Kong
, the latest Ritz-Carlton destination in Asia gets high marks in both amenities and physical location.
Other hotels may have more floors, but none have an address with the altitude of the new Ritz-Carlton, Hong Kong. It is the world's highest address for a hotel, according to the hotelier. The new high-rise property is the company's 16th hotel in Asia and 75th location worldwide.

"The opening of this landmark hotel in Hong Kong is the culmination of many years of hard work and dedication to delivering the very best product, facilities and service in this international gateway city," said Herve Humler, President and Chief Operations Officer of The Ritz-Carlton Hotel Company, L.L.C. "We are taking luxury to new heights in every sense."



Guests are welcomed at the arrival lobby on the ninth floor and then transported to the hotel lobby on the 103rd floor. There are 312 guestrooms, including 500-square-foot deluxe rooms and 80 Ritz-Carlton suites, which provide more than 3,900 square feet of living space.


While it may be assumed without being mentioned, each guestroom does indeed provide unparalleled views of Hong Kong and the Victoria Harbour. The Ritz-Carlton Spa by ESPA and the Ozone restaurant and lounge are on the 116th floor. The Ozone boasts the world's highest al fresco terrace.

There are six dining options in all, including the Chocolate Library, a chocolate-themed lounge on the 103rd floor, and Tosca, whose menu selections center on Southern Italian cuisine. A complete fitness center, with an indoor infinity pool and a massive over-the-pool video screen, is the topper on the 118th floor.

The International Commerce Center in Hong Kong also has an observation deck on the 100th floor, Sky100. Everything is up in the air most splendidly at the recently opened Ritz-Carlton, Hong Kong.

Ritz-Carlton, Hong Kong
International Commerce Centre
1 Austin Road West
Kowloon, Hong Kong
852.2263.2263
www.ritzcarlton.com


{start-jlvideo}881{end-jlvideo}