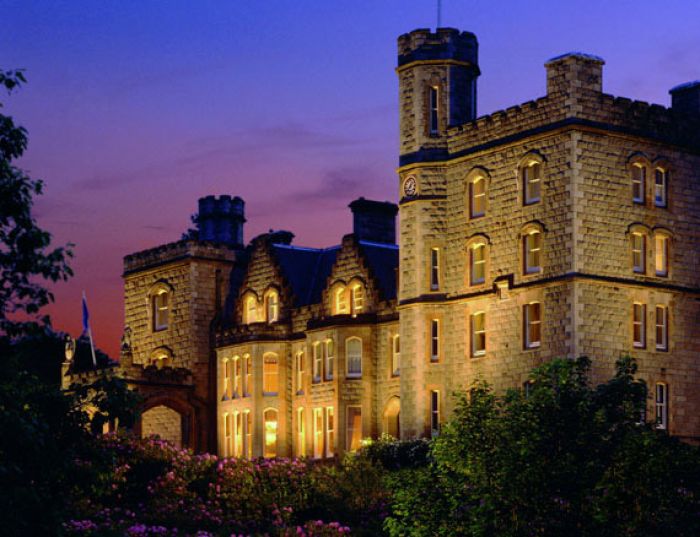 Photo Courtesy of Inverlochy Castle Hotel
As if the experience of driving past the magic and supremacy of Ben Nevis and Glencoe wasn't overwhelming enough.
As if the ever-changing dramatic scenery surrounding Fort William wasn't compelling enough.
As if the history, facts and myths involving the area weren't enthralling enough to men, women and children from all continents, religions and backgrounds.
As if there was no wildlife gifting the journey with sudden bursts of life.
As if the seasons didn't change the light and colours of the area, like stage lighting on a play.
As if there was no mist and mystery.
No sun and solstice.
No sound in silence.
No romance in illusion.

At the end of the journey, there is a striking castle.
Not a ruin, not the private residence of a noble, not a historic museum, but a home that once upon a time opened its doors to kindred strangers.
Inverlochy Castle Hotel was once the symbolic replacement to the ruined 13th century
Inverlochy Castle
, standing a short distance away. It was built in 1863 as a baronial mansion by Lord Abinger, as a family home. Since then, the castle was owned by very different people with different ideas, backgrounds and nationalities, maybe that's one of the reasons why it feels so incredibly welcoming to all.
Despite its tradition and heritage, the castle has a cosmopolitan soul. It has a bit of the Abinger family in its traditional architecture and imposing presence, it has a bit of Joseph Hobbs from Canada in its colourful and welcoming spirit, it has so much of the grace and timeless elegance of his daughter-in-law, Mrs. Grete Hobbs from Denmark, who made her home blossom into a beautiful hotel in 1969 and contributed so much to its current character; and it has the worldliness, generosity and the strong sense of family of Dr. Sin Chai and his family from Malaysia.

Every building carries a bit of the spirit of the people who lived in it, Inverlochy Castle is a beautiful example.



Mr. Joseph Hobbs was a whisky lover, he had bought Ben Nevis and Lochside distilleries and was also associated with Bruichladdich, Glenesk, Glenury Royale and Glenkinchie distilleries. It's impossible to go to Inverlochy Castle and not feel a strong connection with whisky. Mrs. Grete Hobbs married his son, she still visits the castle today and feels that her former home has been kept alive by Inverlochy Castle's guests and visitors. She's a woman of gracious, almost royal manners, with a big heart and a free spirit. Dr. Chai and his family often tell her that the castle is still her home, they welcome her as they would welcome a member of their own family.

Such greatness of spirit shared through such majestic building couldn't have resulted in anything other than a jewel. The Jewel of Turlundy, on the south bank of the river Lochy (Inver is the Anglicised spelling of the Scottish Gaelic inbhir, meaning river): Inverlochy.

Inverlochy Castle's general manager, Jane Watson, has been working at the hotel most of her working life, first as an employee of Mrs. Hobbs, then as an employee of Inverlochy Castle Management International (ICMI), the hotel management company that manages Inverlochy Castle and have Dr. Chai as their chairman. Jane's daughter Kerry Watson, who also worked at the hotel and is currently ICMI's operations manager, grew up at the hotel, hiding in empty bedrooms to watch TV when she was a child, seeing guests come and go and the castle blossom as she blossomed, herself, into adulthood.


The staff at Inverlochy Castle is like a family and ICMI gives them the opportunity to learn and grow within the company, through the other beautiful properties they manage. The guests feel the consequences of such positive management in such magnificent surroundings. They return from all corners of the world; parents bring their children, children grow up, become parents, and bring their children too. Inverlochy Castle is a well-established institution in Scottish Hospitality.

When talking to Jane Watson, who is as nurturing and matriarchal towards the staff as she is efficient and attentive towards the guests, she told us about an American guest who flew over to Scotland to stay at the hotel for three or four weeks every year, for over 15 years. Every year she stayed in the same room, the Queen Suite which is the archetypical traditional castle bedroom: Enormous in size, sumptuously romantic, both majestic and comfortable. They prepared for her arrival by letting the castle's Highland cows graze in the field right in front of her bedroom, she liked looking at them. She spent most of the time in the bedroom, writing and being absorbed by the idyllic views surrounding the castle.


At Inverlochy Castle, one must allow themselves to indulge in a little bit of contemplation. The activities around the hotel are varied, from whisky tours, walks and fishing to visiting historic battle fields and driving through scenic routes with bens and lochs as a backdrop. But Inverlochy Castle deserves the attention and full appreciation of its visitors because staying in it is a privilege. The privilege of being genuinely welcomed at a place that not only is of great beauty, but that not too long ago so very few had access to. The privilege of sharing the same awe that Queen Victoria experienced when she stayed there. The privilege of experiencing the result of the work and the love that Inverlochy Castle's extraordinary owners, past and present, put towards the property, to keep it alive and well despite its age.

We don't need to mention that the food at Inverlochy Castle is superb and that they have been awarded three AA Red Rosettes and one Michelin Star. We also don't need to mention that their pastry chef is out of this world, producing the most delicious pastries from dusk till dawn. We don't want to recommend you to try their omelette which is one of the best we've ever had either, because faced with such overwhelming odds, anything extra we tell you, could sound too good to be true.

As if being a castle and a beautiful home wasn't enough. Inverlochy Castle became an extraordinary hotel. The Jewel of Turlundy will stand proud even long after the Lochy waters go.





This post originally appeared at Five Star Magazine