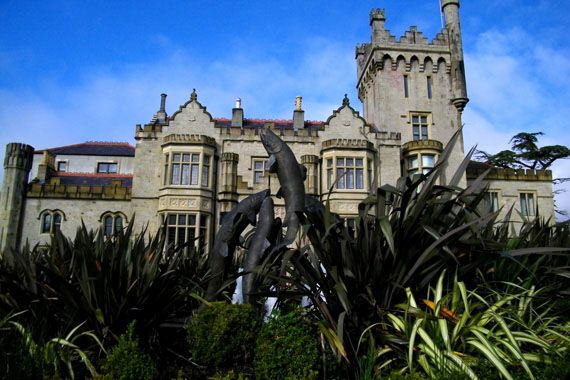 Photos Courtesy of Columbia Hillen
'Secluded hideaway' may be an understated phrase in describing the location and ambiance of the luxury-hotel-award-winning Lough Eske Solis Castle Hotel & Spa in the heart of one of Ireland's most beautiful regions.
The renovated 14th-century castle stands at the edge of the mysterious lake, Lough Eske, surrounded by 43 acres of forest in an area of Donegal renowned for its rugged, raw mountainous scenery, and is reached via a gentle winding laneway that passes bands of age-old birch, oak and cedar. As one drives slowly along, the feeling of travelling back in time is almost overwhelming. And when the narrow, high stone turret atop the hotel comes into view, one senses this could well be happening.
If first impressions matter, then indeed this particular Solis property takes top marks. No doubt one of the reasons why this 96-room, five-star hotel (the only one in the northernmost county of Ireland), has won the prestigious 'Global Luxury Hotel Award for Best Luxury Country Hotel in the World 2011' — not just in September this year but for the last three consecutive years.
The entrance into the hotel itself is as impressive as the outside view of its centuries-old turret. It's up a narrow stone-carpeted stairway, past a wall of framed paintings, both portraits and landscapes — many of which are originals and extremely valuable — and past relaxation rooms on either side with polished wood paneling and floor-to-ceiling shelves stacked with books. With welcoming open fires blazing in each room, it doesn't take much effort to imagine guests idly spending their after-dinner moments reclining with friends and loved ones on the deep, comfortable sofas.
Guests have several accommodation options to choose from; Contemporary garden suites, charming converted stables or presidential suites with leaded windows and antiques.
We chose the pet-friendly option of a garden suite. Set amidst assorted flowers and ornate bushes, intriguing statues of comely maidens and elf-like figures are set here and there to create a subtle, magical effect, especially in the early evening light. Our suite was located directly across from the spa entrance so we could easily pop over dressed only in the comfy room robes provided. The spa was of ample size, with easy walk-in from the paved pathway through the garden. A large four-poster bed awaited us, with an open gas fire and marble-laden bathroom.
The hotel's aims are best summed up by its friendly Den Hague-born manager, Jeroen Quint, who arrived two years ago from the United States where he had worked for a decade, mainly with the Ritz-Carlton group. His past experiences included stints at the group's properties in Washington, Boston, New York and Naples, Florida, working in different positions but mainly overseeing food and beverage. He was also a senior manager at the Solis Palymyra, Montego Bay, Jamaica.
"Relaxed ambiance, friendly, non-intrusive service, [and] recognizably Irish experience" are just some of the characteristics Jeroen is most proud of at the Solis Lough Eske.
"People should come here not only for sheer comfort and relaxation — they're a given in a luxury property like this — but also to enjoy a local slice of authentic rural Irish life," he said, over an informal lunch in the downstairs Gallery Bar, one of two eating locations in the hotel, the other being the larger Cedars Grill.
To recreate that sense of rustic authenticity, the hotel organizes several quaint lifestyle activities. One is a guided walk in the surrounding countryside, a place where wildlife and history meld seamlessly together (the hotel also provides off-road bicycles for those seeking more arduous exercise). The other activity is a rare opportunity to catch fish, mainly trout, in the nearby lake then smoke them outside under the expert guidance of one of the trained kitchen staff. Often, and certainly upon request, local weavers are invited to the hotel to give demonstrations of their traditional craft.
"I believe there is great potential for this hotel, and indeed for the luxury hospitality market generally throughout Ireland, to grow and prosper over the coming years," he said confidently.
With the help of its large banquet room at the rear of the property providing quiet privacy, the Solis Lough Eske has also won many national awards as a popular wedding venue. Altogether, the hotel offers around 6,000 square feet of conference and banquet space.
Aside from the downstairs bar with a full view of the garden area, whose menu features such dishes as half-roasted Fermanagh duck, cottage pie of peas, bacon and braised cabbage and char-grilled Irish sirloin, the other dining experience is the Cedars Grill, where both breakfast and dinner are served.
The room itself is large without being overly spacious, with seating either against the wall in circular-shaped booths providing discreet privacy, or at tables arranged in the central area.
Breakfast is buffet style, with an emphasis on local products, and includes assorted local breads as well as cooked-while-you-wait omelettes. Of course, being Ireland, white and black puddings are among the traditional fare offered.
Being a short 30-minute drive from Ireland's largest fishing harbor, Killybegs, seafood is a key element of the dinner menu, according to Executive Chef Phillip Ferber, with Atlantic cod, fillet of monkfish and home-smoked Inver Bay sea trout as featured items. Being a damp, windy evening, we settled for something more solid and substantial. Our starters were crispy Donegal pork belly, with three chutneys, lemon sour cream and baby button mushrooms, and baked Bere Island scallops with potato foam, cashew nuts, bacon and smoked paprika powder. My main dish, Irish rib eye, was cooked perfectly to order, soft, succulent, not overly-dry. My companion's dish was duck with Colcannon, green asparagus and King Oysters and cherry sauce. We followed this with an 'All in One,' a mini sampling of the three featured desserts; frozen Tyrconnell Irish coffee, triple chocolate and peach, lavender and pineapple, a succulent treat offered for either one or more persons.

The weather being wet, we opted for indoor pursuits — gentle swims in the compact pool, leisurely soaks in the Jacuzzi, and, of course, heavenly massages in the spa — the signature, 'Spa Solis Massage' and the 'Real Aromatherapy Experience.' Other options include hot stone therapy, detox massage, and various hand, face and foot treatments such as the 'rose radiance' and 'ginger and black pepper' variations.
Such delicate diversions are always divine, but particularly so when told north winds batter age-old castle walls and rain beats incessantly like a drum. It's not too surprising how rejuvenated one feels after such luxurious treatment in such autumnal circumstances.
Maybe such Medieval moments are meant to be thus cherished.
Columbia Hillen


Outdoor ambiance
Columbia Hillen


Historic castle grounds
Columbia Hillen


Relaxation room
Columbia Hillen


Book-lovers rejoice