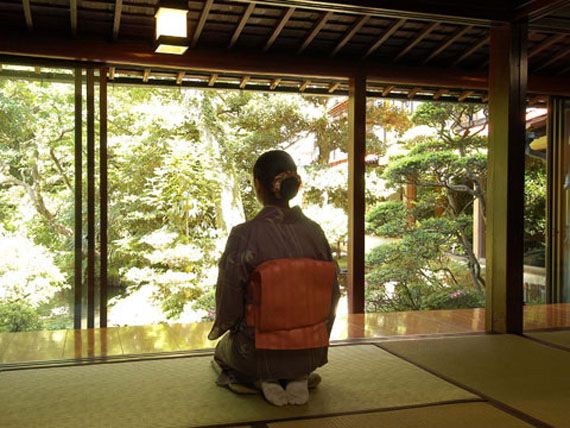 Photo Courtesy of Houshi Inn
Houshi
Inn in Japan
— at 1,300 years of age and 46 generations of ownership — is the oldest inn in the world as recognized by the Guinness Book of World Records in 1994.
More than a millennium ago the location of the hotel was revealed to a Buddhist Monk, Taicho Daishi, by the deity of Hakusan who visited the monk in his sleep at the sacred mountain of Hakusan. The deity informed the monk that the village of Awazu housed a miraculous hot spring blessed by "The Physician of Souls" himself saying:

"Lying 20-24 kilometers from the base of the mountain is a village called Awazu. There, you'll find an underground hot spring with wondrous restorative powers that Yakushi Nyorai (the Physician of Souls) has bestowed upon it. The people of the village, however, do not know of this good fortune. Descend the mountain and head to Awazu. With the people of the village unearth the hot spring — it will serve them forever."


Taicho, as he had been commanded, uncovered the treasure with the help of villagers. Upon this joyful discovery, the monk had the sick immerse themselves in these miraculous waters and witnessed their health immediately restored. Taicho then ordered his disciple to build and run a spa at the site. Today people from all over the world come to Japan in order to bathe in this millennium old spa.




At Houshi, the friendly staff also believe that "people should occasionally cast aside formalities and indulge themselves in pleasure." Therefore it is no wonder that the inn features spaces of Raku (pleasure)
to make sure that their guests leave Houshi with huge smiles on their faces.


Garyo is the main bar of Houshi featuring cocktails from around the world. Irori on the other hand is a casual eatery ideal for a wide range of social gatherings where Houshi's seasoned chefs serve a wealth of fine food in pure and simple forms, preserving the ingredients' inherent taste. At Houshi, you can also find a traditional Japanese bar, Koiki which is perfect for talking quietly with friends after a party.

All in all, Houshi Inn in Japan is complete with authentic Japanese restaurants, a mythical S.P.A, traditional rooms and a Zen garden in addition to other unique functional units that are of Japanese culture. Naturally many of the rooms of this historic inn still retain their traditional Japanese interiors while some rooms have been renovated to reflect a modern ambiance. Houshi Inn also features a Houshi Museum that accommodates works of traditional Japanese art. Visit Ho-Shi.co.jp for additional information.