Chad Chisholm View Profile

| Creationize.com
Son Brull | Boutique Hotel in the Hills of Mallorca, Spain
Posted: Dec. 12th, 2011 | Comments 0 | Make a Comment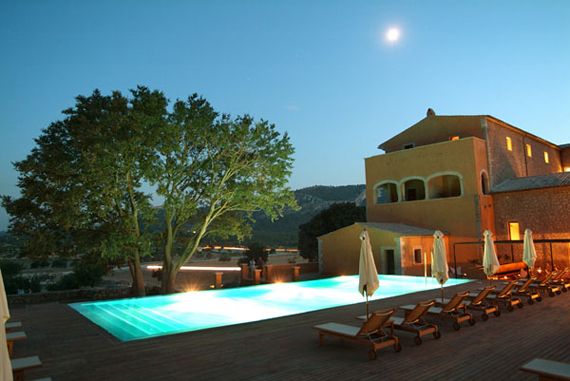 Photo Courtesy of Son Brull
Converted from a monastery of the 18th century with origins in the 1100s, Son Brull Hotel and Spa is a crown jewel of the island of
Mallorca, Spain
. The beautifully restored boutique hotel is the epitome of the Mediterranean lifestyle, an escape to truly relax, enjoy the sea breezes, and luxuriate in the chic property. Whether coming by plane, yacht, or event helicopter (Son Brull has its own GPS code for pilots) the stay will be one you never forget.

Family-owned and managed, Son Brull is home to 23 unique rooms. The modern minimalist design is a wonderful contrast to the history of the property, elements of which still remain. A central courtyard with flower-encrusted vines and gigantic olive press, which is the centerpiece of the bar and restaurant, juxtapose with the crisp whites and gleaming glass of the rooms. Modern décor and artwork hang on century-old walls, sculptural furnishings and hardware meld with the old-world charm and foundation of the property.


Surrounded by 30 hectares of land, nearby golf courses, and home to its own vineyard, Son Brull is an exceptional property. Complete with infinity pool, poolside cabanas, full-service spa, and exceptional service, the boutique hotel rivals many and is an undiscovered jewel for most. A haven for relaxation, the lazily blowing linen curtains of the cabanas reflect the relaxed atmosphere, whether finally reading that book or sipping on the in-house vineyard wines or gins.

Nearby activities are easily arranged through the hotel, from yachting on the Mediterranean to golfing on one of the island's 16 courses, surfing and snorkeling in the warm waters to hot air ballooning high above the vineyards and ocean cliffs, the possibilities are endless and the serenity that is found upon return is priceless. Three minutes from the popular beach town Pollenca, the retreat is perfect for either an exclusive on-property stay or delightful home base for a more adventuresome vacation.

Son Brull SPA is the first Mallorcan spa to utilize local products, including ingredients such as sea salt, rosemary, honey, and aloe vera from local produce. From meditations to peels and massages, the menu is varied and compliments a day by the pool, a relaxing afternoon, or an invigorating way to start the day.



Chef Juan Marc Garcias of Restaurant 365 with al fresco dining offers fantastic fare on property, with wine pairings from exclusive vineyards and bottles of much sought-after vintages, as well as the bar complete with terrace and unique olive press feature, paying homage to the origins of the hotel. Snacks are available throughout the day at the bar, pool terrace, or your room and include light dishes, salads, and other healthy haute cuisine. In addition to the large outdoor pool, an indoor/outdoor pool, Turkish bath, Jacuzzi and full-service spa leave guests not wanting to return to their own homes. The top suites do afford sea views, with all accommodations chic and beautifully done.

Luxury is a key ingredient in the philosophy of Son Brull. From the carefully selected staff to exquisite furnishings and décor by Ignasi Forteza, Son Brull is indeed a luxury stay. Visit SonBrull.com for rates and reservations to book your Spanish getaway. 
Courtesy of Son Brull


Modern decor and interiors of the hotel
Courtesy of Son Brull


Hillside location overlooking the Mediterranean
Courtesy of Son Brull


Meticulously refurbished rooms, bathroom
Courtesy of Son Brull


Artfully crafted cuisine by Chef Juan Marc Garcias
Courtesy of Son Brull


Restaurant 365
Courtesy of Son Brull


Restaurant 365
Courtesy of Son Brull


Room interior
Courtesy of Son Brull


Modern spaces of Son Brull
Related Topics : Boutique Hotels, Luxury Spa, Fine Dining, Spain, European Vacation, Luxury Travel
LET'S CONNECT LUXURY NEWS & MORE






Featured Luxury Hotels

Vieques, Puerto Rico
W Retreat and Spa Vieques Island
Surrender to your senses with W Retreat & Spa, Vieques Island, where the...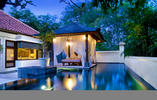 Bali, Indonesia
The Laguna, a Luxury Collection Resort and Spa, Nusa Dua-Bali
Nestled on Bali's finest white sand beach overlooking the majestic Indian Ocean...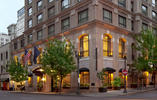 Portland, United States
The Westin Portland
Enter The Westin Portland and you will notice immediately how you are...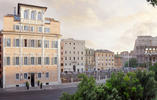 Rome, Italy
Palazzo Manfredi - Relais & Chateaux
Palazzo Manfredi is a rare gem of elegance and hospitality in a unique...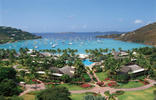 St. John, U.S. Virgin Islands
The Westin St. John Resort and Villas
Pure relaxation awaits you at The Westin St. John Resort & Villas, a refreshing...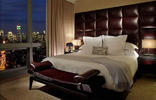 New York, United States
Trump Soho New York
Introducing a new definition of hotel design to SoHo, the neighborhood's only...