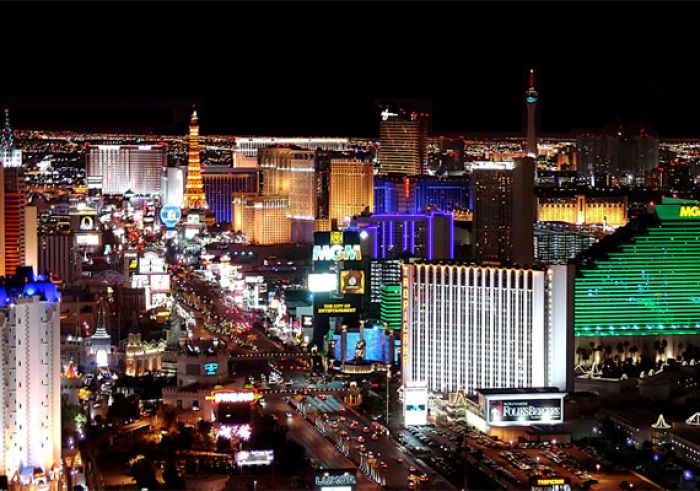 No matter where you live, chances are you have heard a thing or two about Las Vegas. Often referred to as "Sin City," Las Vegas takes entertainment to a whole new level and offers more to see and do than one could possibly fit in their day. With more casinos per square foot and a population teetering at 600,000, Las Vegas is internationally renowned for its gaming and adult entertainment. However, Las Vegas is not all about late-night debauchery, as the city exudes opulence around every corner. Luxury lovers from near and far heard to the city to partake in its rich culture and refined offerings. The city that never sleeps has reinvented itself time and time again and has proven to be a lasting landmark in American history.
When one thinks of Las Vegas it is usually "the strip," which first comes to mind. This three-mile stretch is home to some of Las Vegas' most extravagant hotels, entertainment venues, restaurants and fine boutiques. With themed hotels and casinos canvassing the boulevard, the strip draws swarms of tourists from around the world, making it one of the most traveled tourist destinations on the map. With so many top
luxury hotels in Las Vegas
to choose from, we compiled a list of some of our favorites with quick overviews.
Bellagio Las Vegas:
The Bellagio Las Vegas Hotel is a five-star resort and casino holding the AAA Five Diamond Award for six consecutive years. It has also been on the Condé Nast Traveler Gold List for the past six years as well as having received the Four-Star Mobil Travel Guide Award for seven years running. This
luxury hotel in Las Vegas
provides only the best in quality and service, a long lasting tradition with the Bellagio Las Vegas. The entrance hall is a magnificent reception area dazzling our guests with its marble and Bellagio-themed art décor, plunging them in a realm of Luxury and past splendour.
ARIA Resort and Casino:
ARIA Resort & Casino is a fusion of energy, inspiration and vision. Forming the core of CityCenter, the dazzling urban resort destination destined to refine and redefine the Las Vegas Strip, ARIA features an unprecedented combination of striking architecture, sustainable design, high-end service and spectacular amenities. Guests are swept away by its breathtaking beauty, stunning innovation and the refreshing level of consciousness found in every detail. Even in a city such as Las Vegas, with its extraordinary history of dynamic cutting-edge developments, ARIA introduces a new generation of experiences, unlike any of the
luxury hotels in Las Vegas
, and more remarkably the world, has ever seen.
Wynn Las Vegas:
Wynn Las Vegas is an extraordinary luxury resort with abundant amenities and activities for all guests. There is the casino with myriad gaming options, including a VIP player's club. Shoppers have 14 specialty boutiques of world-recognized designers and merchants from which to choose. Wynn's spa is Las Vegas' official capital of relaxation with its body treatments, massages, facials and beauty salon. Guests emerge from rejuvenated, replenished, revitalized, and ready to party. The resort's award-winning chefs are more than bosses, as they actually prepare meals for guests. The gastronomical experience stemming from Wynn's eight scrumptious restaurants is a world tour for the palate, as various cuisines are deliciously represented.
The Palms Hotel Resort Hotel and Casino:
The Palms Hotel Resort Hotel and Casino was at the centre of attention from the very beginning, with season twelve of MTV's "Real World" being filmed on the property. Part of the
luxury hotels in Las Vegas
, the hotel stands 40 stories high offering breathtaking views of the Las Vegas Strip and the splendid mountains surrounding the city. There are more than 800 suites and guest rooms at this. Most well known are the Fantasy Suites. The Fantasy Tower features themed suites that vary from the all-pink bachelorette motif, to in-room bowling alleys and basketball courts. On the upper levels of the Fantasy Tower are six Sky Villas, each offering an outdoor pool overlooking the Strip.
MGM Grand Hotel and Casino:
With premiere accommodations, jaw-dropping entertainment and five-star restaurants, the MGM Grand offers the ultimate Las Vegas experience. The hotel and casino opened its doors in 1993 as a Hollywood-themed resort, and has been thriving ever since. With more than 5,000 guest rooms this is one of the
luxury hotels in Las Vegas
. The Marquee Suites feature a grand foyer, which separates two master suites, covering more than 1,500 square feet. For the ultimate in luxury, travel two floors up and submerge yourself in The Skylofts. The MGM Grand provides something for every member of the family.
Take the guesswork out of your next luxury vacation by discovering some of our favorite local attractions. See our list of
things to do
in Las Vegas.