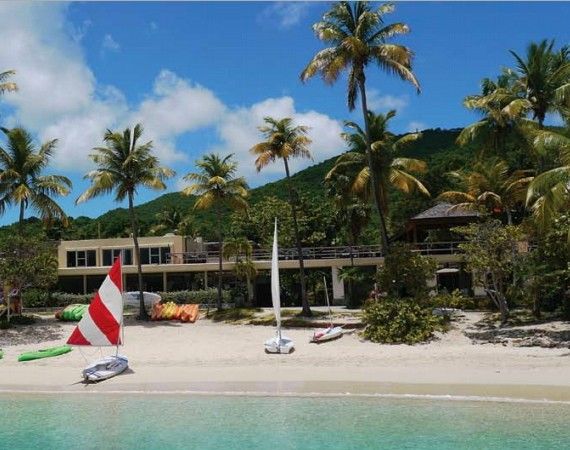 Photo Courtesy of Rosewood
Financier and philanthropist Laurance Rockefeller knew a good thing when he saw it. In the 1950s he founded the modern eco-resort movement with the establishment of
Caneel Bay
, situated on an amazingly beautiful piece of oceanfront land in St. John in the U.S. Virgin Islands.

The story goes that Rockefeller fell in love with the area and ended up arranging to buy most of the island, which is still accessible only by boat or ferry. He later donated the lion's share of it to the U.S. Government for what became the Virgin Islands National Park. Caneel Bay however remains true to his original vision of an intimate resort in perfect harmony with its natural surroundings. Once the cornerstone of Rockefeller's Rockresorts brand, the posh property is now owned by Rosewood, which has gracefully updated the accommodations and public spaces.



Situated on 170 lush, tropical acres comprising seven secluded beaches, the resort epitomizes "simple splendor" with only 166 guest rooms occupying the property, grouped in small compounds dotted around the premises. Meandering pathways connect the low-key buildings providing glimpses of the resort's†herds of wild donkeys and deer.

A pervading sense of calm with a Caribbean flavor means†a refreshing lack of telephones or televisions in the rooms, though these days WiFi is available throughout the resort. What you will find upon arrival is a bottle of the local rum for enjoying at your leisure on the balcony or beach. If it's activity you seek, in addition to the watersports facilities and walking trails there are 11 tennis courts where one's game can be polished in a picture perfect setting.†



There are four restaurants on the property including†the Turtle Bay Estate House, one of St. John's most beautiful restaurants; the Sugar Mill, set in the resort's 18th-century sugar mill ruins; the open-air Caneel Beach Terrace where breakfast and lunch are served buffet style; and the Caneel Beach Bar & Grill for more casual outings, and a TV fix if you really need one. The Wine Room at Turtle Bay seats up to 10 guests†for elegant private dinners with a prix-fixe, seven-course menu, carefully selected to highlight selections from Caneel Bay's†wine collection, and the resort can arrange for a private torchlit dinner in a quiet corner of the sugar mill ruins as well.†



While all the resortís rooms have a laid-back luxurious charm, Cottage 7, located in what was once Rockefellerís private residence, offers a truly A-list escape. A five-bedroom collection of dramatic rooms and patios with breathtaking views of the Caribbean Sea, a few years back it was occupied by Brad Pitt, Angelina Jolie and family. They arenít the only celebrities to visit St. John by any means. Harrison Ford, Denzel Washington and Kenny Chesney have been spotted escaping from the limelight on the intimate isle. Even fictional heroes have been known to retreat there; at the end of John Grisham's best selling novel The Pelican Brief the main characters fly off to St. John. Itís not hard to see why.†Visit RosewoodHotels.com to see more.