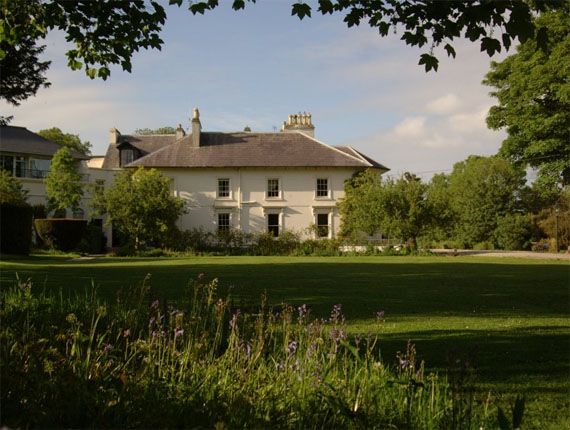 Photo Credit Columbia Hillen/Rathmullan House
The first things one would notice inside this elegant, 32-room Georgian house in Donegal, the most northern region in
Ireland
, are plates. They are everywhere, hundreds of them, hanging on walls, lining shelves and decorating rooms with their eye-pleasing designs. They are delicately, intricately designed; many are hand-painted while some are antiques.
So what gives? Raven-haired Mary Wheeler, co-manager of the expansive 200-year-old restored hotel, explains saying "Yes, we have quite a collection, brought together over many years, some of them several centuries old with interesting histories to tell, and obtained by different family members." But there's much more to this elegant, rambling stately home than porcelain plates.
It would be hard to find a much more bucolic location. Set among spacious, rolling Irish-green meadows and landscaped gardens, it is a stone's throw from a silky, sandy beach offering a leisurely stroll to a picturesque stone pier in the lough-side town of Rathmullan. The relaxing ambiance, with logs blazing in open fireplaces on a cold, wet February weekend, and deep, soft sofas added an extra touch of luxury. Talk about coziness—it is a perfect paradise for a Sunday siesta, or a quiet, undisturbed read.
We arrived on a particularly eventful weekend during which a two-day conference was being held. Entitled "The Awakening," the conference featured witty and erudite speakers and performers, historians, economists, satirists, musicians, politicians and singers all mulling over the theme "reinventing the republic." Attendees discussed Ireland's past, present, and future during the event, and it was due to co-manager Mary Wheeler and husband Mark's marketing creativity that the February event took place.
However, it was not the first time the couple had organized such entertaining and informative gatherings. Mark and Mary Wheeler have also hosted cultural events over the years, often in partnership with the county's Earagail Arts Festival. The Awakening event was particularly special because this year will mark the 50th anniversary since Mark's parents, Bob and Robin Wheeler, first welcomed guests to Rathmullan House. To celebrate the milestone, a varied set of activities has been planned and the commemoration will culminate this November when 50 guests will be invited to spend a night there. As Mark put it, "[we will be] celebrating and remembering fifty years of highs and lows, but mainly good times together." The couple promises everything from beach games and architectural tours, to seaweed-inspired weekends and a potato harvest feast.
No description of a traditional Irish property is complete without multifaceted historical references. Built in 1820 as a summer home for the family of Lieutenant Colonel Andrew Knox, Rathmullan House has an intriguing history. It was soon bought by a branch of the wealthy Batt family, founders of the Belfast Bank. The residence bar bears their name and a portrait of one member, Charlotte, hangs proudly in a sitting room. The family lived there for over a century before the house was taken over briefly by a group who organised walking tours, and was then finally bought by Bob and Robin Wheeler in 1962. The Wheelers turned it into a 21-bed hotel. It has undergone several expansions since 1820, the most recent being in 2004, which saw the addition of ten bedrooms in a new wing and a room for conferences and private dining.
Understated but cozy bedrooms at this northern Irish property highlight the fresh feel of countryside living where guests can enjoy local, organic seaweed-base toiletries and home-made cookies that are baked daily. Our room looked out on to grassy lawns and hedgerows beyond. The Rathmullan House provides facilities for conferences with The Gallery, a purpose-built center that can provide catering services for up to 80 people. The space also has a dedicated TV and play area for children where baby-sitting services can also be arranged. The center's premises include tennis courts, an indoor pool, and steam-room with a spa that provides services such as massage, reflexology and Reiki. As a pet-friendly establishment, our Collie, Siog, enjoyed a private, nearby room with an ample bed.
Ireland doesn't automatically attract worldwide acclaim for its culinary offerings, such kudos are usually reserved for France and Italy, but sometimes delightful surprises await the unwary. During out weekend visit at Rathmullan House, a special three-course banquet was served up that left us more than satiated. Having already been charmed by an organic breakfast selection of grilled smoked herrings, smoked salmon, bacon and sausages, natural honeycomb and home-made breads, as well as the most enticing and succulent roasted ham I have ever seen (and tasted), I felt a child-like expectation as to what lay in store that Saturday evening. I was not to be disappointed.

Our meal started with home-cooked terrine served with mixed leaves and caper berries as well as onion soup with a naughty crust of cheddar cheese that disappeared in a flash from our plates. The venison Wellington had a firmly baked crust and the nutritional warmth of roasted mixed vegetables; a ball of floury mashed potatoes was a perfect complement to the misty winter outside the window of the Weeping Elm restaurant. For dessert, a "melt-in-your-mouth" chocolate pear and almond pie with a crusty-base left one mouthing the mantra
I want more
. Other dining options include The Cellar, which offers, besides a choice of tasty, full-bodied locally brewed Kinnegar beers, al fresco cuisine during the summer months.
Less than five minutes away is the beginning of the panoramic Fanad Head Drive along a winding road that skirts high above Lough Swilly and ribbon-like, pristine beaches. For golf aficionados there's the nearby Portsalon course, or Ballyliffen and Rosapenna, about an hour's drive away. There's also horse-riding with nearby stables offering trekking and lessons. Watch soaring wild eagles and take scenic lakeside walks at Glenveagh National Park. For seafarers, there are boating and fishing activities. Two charters based in Rathmullan, The Enterprise and Swilly Explorer, are available in-season for tours. There's also the Rathmullan Sailing & Watersports School which offers dinghy sailing courses, kayaking lessons and excursions.
With the Clipper Yacht Race and Fleadh Cheoil na hÉireann, Ireland's national traditional music festival, taking place in nearby Derry later this year as well as a myriad of events associated with next year's UK City of Culture, the entire northwest region is set to attract an influx of visitors. To avoid disappointment, book early. See
RathmullanHouse.com
for more details.
Columbia Hillen
Stillness settles on bush and bough.
Columbia Hillen
Cozy reading room invites rest and relaxation.
Columbia Hillen
Perfect duet of music and nature.
Columbia Hillen
All is ready at the Weeping Elm.
Columbia Hillen
Where past and present meet.
Columbia Hillen
Room with a view.
Columbia Hillen
A plate-load of creativity.