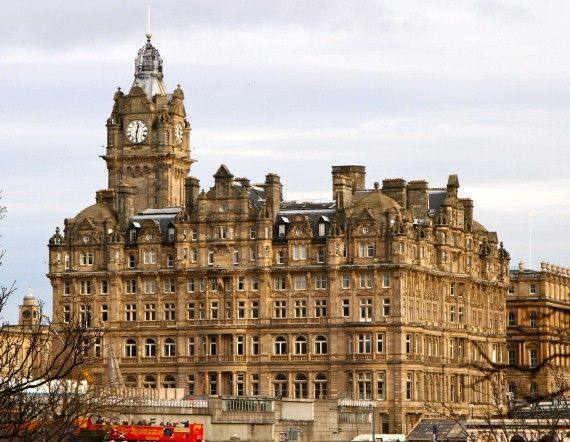 Photo Credit: Jared Paul Stern/Balmoral Hotel
When
traveling to Scotland
in style bon vivants make a beeline for the stately Balmoral Hotel, which has presided over Edinburgh with its noble clock tower since 1902. Part of the posh Rocco Forte Hotels portfolio since 1997, the Balmoral now boasts 188 opulent suites and stylish rooms, including the ultra-luxe J.K. Rowling suite where the author stayed while writing the last two
Harry Potter
books. The 180-square-foot suite with wonderful views of the city contains a marble bust of the Greek God Hermes that Rowling signed after finishing the final book, and also includes the desk and bed she used during her stay.
Rowling, like other Balmoral regulars, appreciates the hotel's impeccable service, a hallmark of all Rocco Forte properties. There is no request the staff cannot accommodate, from a helicopter ride in the Highlands to hand-polishing your shoes in preparation for a night on the town. There is nothing intimidating or off-putting about the Balmoral's undeniably opulent atmosphere; from the crackling fire in the lobby's marble chimney piece to the welcoming fellows in tam o'shanters and capes who flag down taxis and hold open the doors, one is always made to feel right at home.
Hadrian's, the hotel's chic brasserie, is a standout with delectable casual dining options including gourmet versions of local favorites such as kedgeree, and a champagne cocktail cart complete with fresh-squeezed fruit juice for the perfect pre-dinner drink.
The popular Balmoral bar, an elegant Bollinger champagne bar, the Michelin-starred "number one" restaurant presided over by Executive Chef Jeff Bland and a luxurious spa round out the offerings at the
five-star hotel
, which blends old world sophistication with modern convenience enhanced by the hotel's magnificent architecture.
Since so many of the glamorous guests at the Balmoral have Scottish ancestry, the hotel recently introduced a Tartan Butler, aka concierge Andy Fraser, to assist those wishing to explore their heritage. Fraser, who has traced his own clan as far back as the early 13th century, can help identify tartans associated with one's family name. Once a connection has been established, he then provides a personal introduction to Kinloch Anderson, the city's legendary kilt makers established in 1868, who will custom craft a tartan garment to match. Fraser can also help create a bespoke tour of the Scottish locales where an ancestor was born or spent their life.
"As true Scot and Edinburgh resident, I have always had a keen interest in our tartan heritage and the traditions associated with it," Fraser notes. "It was the Dress Act of 1746 that tried to bring the warrior clans under government by banning the tartan and other aspects of Gaelic culture. When the law was abolished in 1782, it was no longer ordinary Highland dress but was adopted instead as the national dress of Scotland. I am looking forward to sharing this history with guests at The Balmoral who want to trace their own

Scottish heritage." Fraser is certainly, and justifiably, proud of his own, which has some 30 tartans associated with it. 
Established by British hotelier Sir Rocco Forte in 1996, the Rocco Forte Hotels portfolio also includes such world famous gems as the Hotel de Russie, Rome; Hotel Savoy, Florence; The Lowry Hotel, Manchester; Hotel Astoria, St. Petersburg; Hotel Amigo, Brussels; Brown's Hotel, London; Villa Kennedy, Frankfurt; Hotel de Rome, Berlin; The Charles Hotel, Munich; Augustine Hotel, Prague; and of more recent vintage, the Verdura Golf & Spa Resort, Sicily and the Rocco Forte Hotel Abu Dhabi. Future openings planned for the Middle East include Jeddah in 2013, and Marrakech, Cairo and Luxor in 2014. Visit
TheBalmoralHotel.com
to learn more.
Jared Paul Stern
The Bollinger Bar
Jared Paul Stern
Andy Fraser, the Tartan Butler
Jared Paul Stern
Andy Fraser and a Balmoral Doorman
Jared Paul Stern
Champagne cocktail cart at the Balmoral Bar
Jared Paul Stern
Dinner at Hadrian's
Jared Paul Stern
The Balmoral Bar