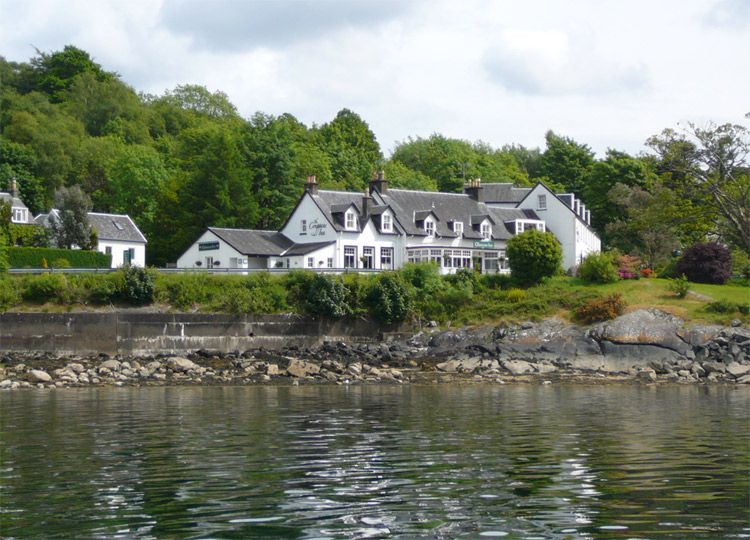 Photo Credit: Columbia Hillen/The Creggans Inn Hotel
To
visit Western Scotland
and not drink whisky is almost considered a sin—an arch insult to a long-held Celtic tradition. To drink it for breakfast is your saving grace. Such is one of the abiding memories of The Creggans Inn Hotel in Strachur, Argyll, near the Scottish Highlands where the traditional morning porridge comes with 'a wee dram' of Black Bottle, a peaty-tasting whisky.
And with scores of varieties to choose from (of whisky that is, not porridge), it makes a first morning in this rustic, lakeside hotel one to remember. In a holiday destination where rain falls heavily for around 200 days a year, the strong, warming liquid helps keep the damp, northern chill from one's bones.
But whisky with porridge is not the only aspect of the 300-year-old, family-run historic country inn that enlightens one's spirits. The Creggans Inn Hotel is located right on the lip of Loch Fyne and its large upstairs sitting-room provides stunning 'in-your-face' views across its rippling waters to pine-covered slopes beyond to the west coast town of Inveraray and its iconic castle, ancestral home of the Duke of Argyll, chief of the Clan Campbell.
Run by husband-and-wife team Archie and Gill MacLellan, ably assisted by Hector, their pet dog, The Creggans Inn Hotel is located in a popular area between the west coast and the Scottish highlands, just less than an hour's drive from Glasgow up a curving, well-built road along Loch Lomond and past a look-out point with the quirky name of 'Rest and Be Thankful.' Thirsty travelers can stop enroute at the Fyne Ales brewery, to taste its smooth-tasting local ales.
The best way to describe The Creggans Inn Hotel—winner of the 2012 Inn of the Year Award at the Scottish Hotel Awards—is 'a delightfully rambling building.' At first glimpse, it seems quite compact, a first impression further encouraged by sight of the small car-park adjoining it. But a walk through its well-lighted, window-encased lobby—with cabinets containing a diverse range of local products from cosmetics made from sea kelp to hand-knitted woolen socks, homemade jams and marmalades—to an extensive sitting-room beyond puts paid to that erroneous notion.
This elongated room, with tables, chairs, cozy sofas and table-side lamps generously distributed throughout, stretches back fifty meters and offers lots of quiet places for relaxed reading or jolly conversation. Paintings by local artists bedeck the walls, large bay windows and deep, red, patterned carpets only add to one's overall sense of comfort and well-being.
Columbia Hillen
Aside from a piano, its top open inviting guests to 'tickle the teeth,' the room is also decorated with an array of cabinets and shelves filled with an assortment of knick-knacks and ornaments, including delicate porcelain figurines, silver urns and decorative dishes. Of particular interest is a cabinet containing finely-sculpted wood items such as bowls, rolling pins, candlesticks, honey dibbers and vases made from sycamore, elm, cherry and ash.
The far side of the room is where breakfast is eaten with several offers—traditional bacon, sausage and egg; fresh kippers and salmon; or fruit and yogurt, or porridge. Immediately outside is a large veranda with wooden picnic tables and there is also a nearby sunroom to be enjoyed.
Evidence of The Creggans Inn Hotel being a popular accommodation choice are photographs in the bar-restaurant area behind the main staircase. These depict celebrities such as Roger Moore, who acted the role of James Bond in the first movie series, as well as fellow actors and television personalities Michael Winner and Michael Caine, all of whom stayed here. Other notables include actress Joanna Lumley, singer-songwriter Art Garfunkel and Princess Margaret, a member of Britain's Royal family.
The Creggans Inn Hotel also has a small, snug bar complete with dart-board and a corner television with a separate games-room beside it with billiard tables inside. Its MacPhunn's Bar & Bistro is intimate with a menu that runs the gamut from duck breast to fresh scallops and mussels.
Inspired by seasonal local produce, a fine dining environment is available for guests in the Loch Fyne Dining Room, overlooking the lake. Pan seared wood pigeon, roast chump of Scottish Lamb, baked fillet of halibut with lemon and brioche crust and pot roast breast of Guinea fowl are only some of the delights that tantalized our tastes buds during our stay. And do try the traditional dessert, lemon posset. It's highly unlikely you'll be disappointed.

An intriguing historical tale about the hotel relates to one of its former owners, Sir Fitzroy MacLean, a diplomat and member of the British SAS, a secretive military undercover group, who later became an author and whose son, Archie, also an author, still lives close by. MacLean was linked to Ian Fleming, former British spy and author of the James Bond novels. In fact, some say due to his colorful exploits, MacLean was—at least in part—a model upon which the James Bond character was created. For more information, check
Creggans-Inn.co.uk
.