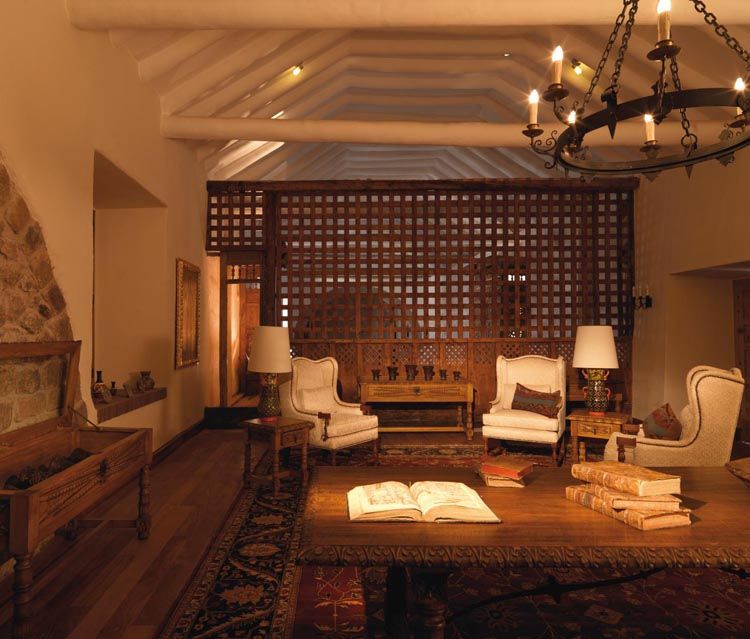 Photo Courtesy of Orient-Express
Palacio Nazarenas is located in the heart of downtown Cuzco, Peru, and the
luxury hotel
strives to take advantage of its unique surroundings. Guests are situated between the city's central square, the Plaza de Armas, and the lively neighborhood of San Blas, in what was once the capital of the Inca Empire. With subtropical weather that mostly stays dry, except from November to March when showers are known to occur, visitors are met with warm sunshine and cool nights. With rich surrounding culture and warm inviting weather, Cuzco is a great choice for the
luxury traveler
With ancient stones lining alleyways and a nearby baroque church, Palacio Nazarenas holds only 55 suites. The hotel blends the presence of ancient Inca stones with their contemporary restorations. There are four different types of suites, each with a view either of the patio or pool. The two Master Suites, Palacio Suite and Nazarenas Suite, come with a full-time butler and an iPad for personal use during your stay. The Palacio Suite has a private terrace and is set in one of the older parts of the hotel, while the Nazarenas Suite has a handcrafted ceiling and gives a view of Nazarenas Square. The Grand Suites feature high ceilings, with bathrooms that have floor heating and Peruvian marble. The basic Suites and Chica Junior Suites have original Inca and colonial features, as well as balconies.
Within Palacio Nazarenas is the Hypn√īze Spa, inspired by Inca and Andean culture and specializing in aromatherapy. Meant to enhance moods, the
luxury spa
uses indigenous Peruvian ingrediants like flowers and herbs, pink Andean salt, purple corn, and coca leaves. With five treatment rooms and a double room with a private hot tub, the spa has many different services meant to calm the spirit. A really neat feature is that some of the treatment rooms have glass floors which expose the Inca walls underneath.

With Palacio Nazarenas only a few hours from Machu Picchu and a short drive from Sacred Valley, Lima, and Arequipa, guests will be able to explore Cuzco's rich culture. The Plaza de Armas is only minutes from the hotel and has a cathedral and the Jesuit church La Campania beside each other. Guests will be a 20-minute drive from great Inca remains, like Sacsayhuaman. Filling a hill that overlooks Cuzco, Sacsayhuaman is comprised of huge zigzag walls that are formed by boulders carved to fit together. Also nearby is Puca Pucara, filled with terraces and stairways, Quenqo (the sacred amphitheatre), and Tambomachay, which is a shrine to the water deity and features flowing fountains.
Rates, depending on suite and day, range from $595 to $1,365 per night.
For more information visit
PalacioNazarenas.com