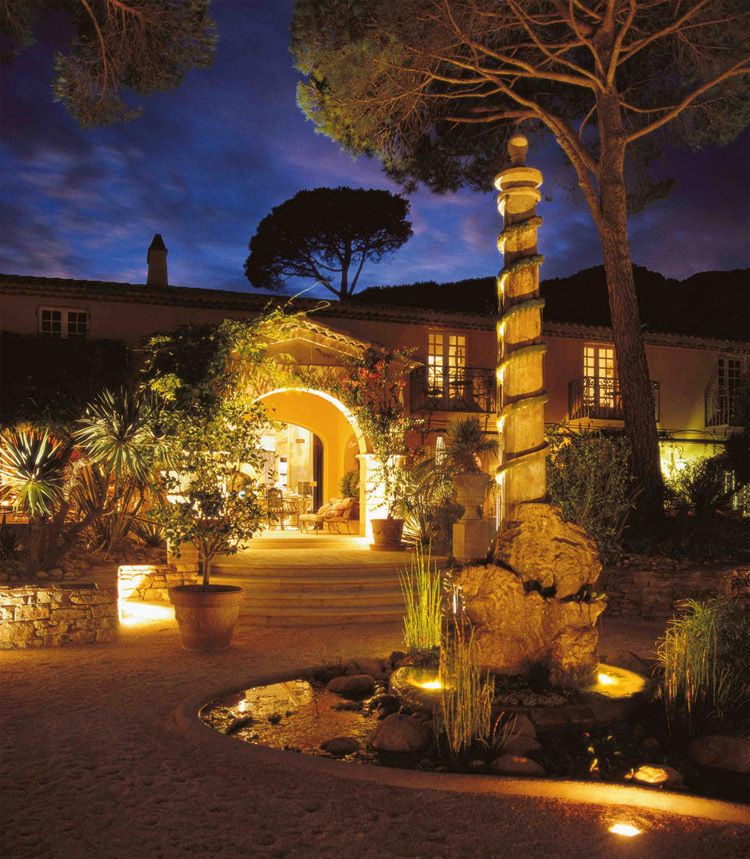 Photo Courtesy of Villa Marie Hotel
Plenty has been written about St Tropez over the years—a place where fame and money collide, remaining on the 'It' list by leisure travelers, celebrities and royalty alike since it was popularized in the 1950s. St Tropez can be rather manic in the peak of summer, therefore being 10 minutes away by car, on the way to the famous Pampelonne beaches, is a welcome retreat. Villa Marie is one of the
luxury hotels in St Tropez
that is close enough to indulge in all of the town's glory, but far enough removed in its serene surroundings to encourage proper relaxation.
Villa Marie is reminiscent of a converted farmhouse with stone floors and walls, beautiful arches and several distinct lounge and patio areas for enjoying the lush garden surroundings and glorious views. With a grand entrance of imposing gates just outside the village of Ramatuelle, you have the sense of entering a private house rather than a hotel. And the beautiful gardens and various nooks and crannies with their carefully selected objets d'arts perpetuate this feeling.
Each of the 42 bedrooms is decorated in subtle shades with comfortable wrought-iron beds and Florentine furniture all creating the rustic elegance of the countryside. The bathroom contained a shower and bathtub which was separated from the bedroom area by a wooden partition. Though some might appreciate the use of the free standing bathtub, I found it to be an unnecessary addition, as the room could have benefited from the extra space.
Our room had a small patio area overlooking the beautiful pine forest, although some rooms have glorious views of the sea in the distance beyond the foliage. The outdoor swimming pool is built into the rocks, surrounded by manicured trees and greenery, embracing its environs, but while definitely striking, I felt like it could have been more inviting.
The elegant Villa Marie estaurant manages to be both formal and relaxed with good quality Mediterranean cuisine and the sea providing a marvelous backdrop. Masterful up lighting in the evenings make the trees and foliage look enchanting with the scent of lavender and wisteria in the air. Service was meticulous throughout our stay across all parts of the hotel, with friendly, attentive staff.

If the views and gardens aren't enough to make you feel at ease, the Pure Altitude Spa certainly will. Offering a range of beauty and restorative treatments using the 'Pure Altitude' mountain plant range, the three treatments rooms have more than 1,000 seashells lining the walls to help you drift away.
For trips in to town or to the beach, the hotel's BMW 7 series is available to take you in style and if you need a return taxi, you can call the hotel to arrange one on your behalf.
For a secluded, exclusive enclave of tranquility just a few miles from the frenzy of St. Tropez, Villa Marie is a gem to behold. Visit
en.VillaMarie.fr
to see more.