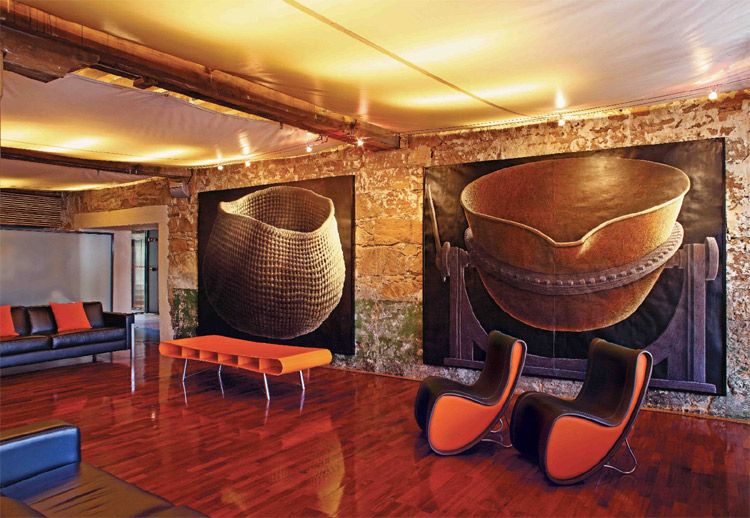 Photo Credit: Henry Jones Art Hotel/Karin Leperi
Way down in the southern hemisphere at the bottom of the world is a
five-star hotel in Tasmania
dedicated to showcasing the works of the area's finest artists. Located on the waterfront in Hobart, Australia's smallest capital, the Henry Jones Art Hotel is an architectural success story—a story where old meets new, where history meets the present while paying homage to both.
It begins with old wood beams and weathered brickwork, carefully preserved and artfully exposed by award-winning architects who intentionally incorporate manufacturing machinery and sandstone walls into the mix. The story continues by incorporating contemporary design with an emphasis on elements and place, then showcasing interior walls with a mixture of aboriginal and modern-day art.
Karin Leperi
Space is carefully designed and accented by designer furniture with an emphasis on casual luxury. The result is the winner of TripAdvisor's Traveler's Choice 2012 award and a place on their list as one of Australia's Top 25 Trendiest Hotels (Other awards include two Australian Tourism Awards and recognition by
Conde Nast Traveler
on its 2009 and 2010 Gold List).
Karin Leperi
Setting Trends in Australia
As Australia's first and only dedicated art hotel, The Henry Jones Art Hotel offers high-class accommodations in what used to be derelict dock warehouses and a former jam factory. Historic warehouses dating from the 1820's have been transformed into a 56-room hotel with contemporary luxury and original art while preserving historic nostalgia of colonial beginnings.
Sophisticated and stylish, each room or suite is uniquely different, though all share common features such as original walls of stone and timber trusses, exposed brickwork, natural timber furnishings, European style steel and translucent glass bathrooms, and high-tech features. Special pillow menus are also available. My room was #206 with a wonderful view of the harbor front. Other rooms have equally compelling vistas of the working harbor or of Mt. Wellington, the glass atrium, or the old jam factory.
Karin Leperi
Historical Traces
By fusing old with new, colonial heritage and modern-day art, and traditional building components with state-of-the-art technology, The Henry Jones Art Hotel is a celebration of what "was" and what "is." A meticulously-crafted original staircase (Tasmania's earliest spiral staircase) and restored machinery from times gone by are juxtaposed against an all-glass Atrium, where locals and tourists clamor for seats at the popular Sunday breakfast. This is where George and Margaret Peacock founded the original jam factory, which later became the residence of Sir Henry Jones—namesake of the present-day hotel.
The "Artistic" Extras
What sets the Henry Jones Hotel apart from so many other contemporary hotels is how it incorporates local Tasmanian artwork not only in its public spaces, but in all guest rooms as well. Displaying over 300 pieces of artwork at any given time, the inventory includes paintings, sculptures, and installations, with many available to take home for a price. The front desk has a list of those for sale along with prices.
The hotel has a strong connection with the nearby Tasmania School of Art and is noted for continuously changing their exhibition. So what may catch your interest at any given time may not be there in the future. A word of advice: savor art in the moment.
Drink and Dine in Style
The hotel has a lively bar that supposedly houses the longest counter-top in Australia. Be sure to stop by and check it out at the IXL Long Bar while enjoying cocktails or pre-dinner drinks. Then savor contemporary Australian cuisine at Henry Jones Harbourside Restaurant, where an innovative menu offers both classic and updated versions of culinary favorites. Then again, you can always order room service 24/7 in the comfort of your suite.
Karin Leperi
Trace Your Tasmanian Roots

Here is something you will not find anywhere else in the world: insider assistance in researching your Tasmanian ancestry. Since hotel staff has access to Tasmanian archives, they are more than happy to research your Tasmanian roots regarding any connection your family's namesake may have with historic Hobart and the site of the present hotel. After all, the property and building are steeped in colonial history and traces its past to some of the early colonial settlers and businessmen. This has to be one of the most unique services ever offered by a hotel. Visit
TheHenryJones.com
for more information.