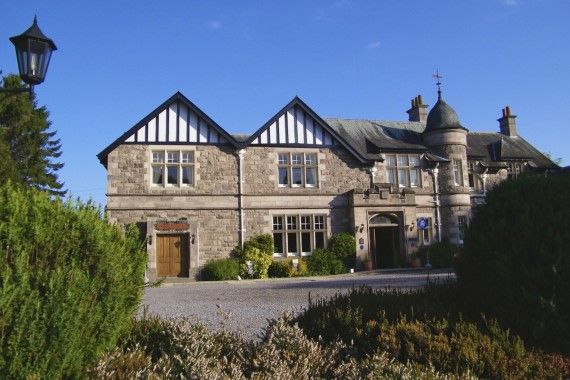 Photos: Columbia Hillen/Ramnee Hotel/Inverness Suites
Want to enjoy both a rural and an urban experience while on the
northwest coast of Scotland
? Then a few days at the luxury Inverness City Suites, followed by a few at Ramnee Hotel up the coast may be just the ticket. Owned by the Dinnes family, the first accommodation is located in the heart of Inverness, an expanding cultural city just ten minutes from the intriguing Loch Ness; the second is just beyond the village of Forres, further west along the Moray coast.
Inverness City Suites, a six-apartment complex, is centrally located, directly across from the main tourism office and museum. The hum of Scottish accents and a sense of the city's fast-changing nature greets one literally outside the front door as one meanders along the pedestrian walkway leading to a range of restaurants, concert venues and shopping centers.
As one of the fastest-growing cities in Scotland, Inverness offers an increasing range of arts and cultural activities. Illustrating this, during my recent stay, there was a choice of a national opera touring company's performance of Tosca, an Appalachian music concert or a burlesque show, all in venues within a half-mile distance of each other.
Inverness Museum and Art Gallery, just across from the suites, has a captivating free exhibition on the history, art and heritage of the Highlands—one can even learn how to properly don a traditional Scottish kilt. (
Photo courtesy of Inverness Museum and Art Gallery
)
All Inverness City Suites apartments comprise a spacious open plan lounge/dining area; a fully-fitted luxury kitchen; a bathroom with shower and bathtub; and sumptuous bedrooms. The two-bedroom apartments boast both an en-suite master bedroom in addition to the main bath or shower room.
Each dwelling is fully-equipped with everything from Egyptian cotton bed linens and fluffy towels to iPod docking stations, flat screen TVs, free broadband Wi-Fi and daily housekeeping as part of the service.
Opened last year after a major refurbishment, the 19th century Geddes Building that houses the apartments was formerly known as the Athenaeum and functioned as a literary institute. Its central location makes it extremely convenient for shopping, with the Highland House of Fraser as well as the pedestrian shopping street just a few meters away.
For a change of scenery, a few days in the tranquil countryside could not be better spent than at the majestic Ramnee Hotel, less than 30 miles outside Inverness. Aside from the fact that it's located immediately opposite the local police station, a sculptured stone entrance means Ramnee Hotel is hard to miss as you drive along the A96.
A short, curved driveway alongside a manicured lawn brings you to the sturdy stone building boasting twin turrets and a front door of decorative stained glass. Inside, opposite the reception desk, stands a tall grandfather clock with varnished wood furniture everywhere. The balustrade leading up to the rooms above is so wide and elegant one half expects ladies in elegant 19th century crinoline dresses to appear at the top ready for the ball.
Columbia Hillen
If that isn't enough to create classic 'old world' ambiance, then the rooms certainly will. Ours presented heavy mustard-green brocade curtains hanging from latticed windows, thick pile carpet, a stately four-poster bed, walnut wall paneling and vintage furniture including a simple but elegantly decorated tea-table, a vanity mirror and ornate, silver-stemmed bedside lamps. A touch of post-modernism was provided by two identical, eclectic, elongated cubist-style paintings on the wall in vivid red and gold.
And the views from the windows aren't bad either, offering a clear sight down over gentle sloping fields and hills to Findhorn harbor and its adjoining beach on the other side of Findhorn Bay.
Columbia Hillen
Ramnee Hotel's restaurant, Hamblins Dining Room, also displays a sense of 'old world' ambiance with a large open fireplace central to the furnishings. Its menu is most satisfying with seasonal starters such as local smoked salmon with mille feuille of rye bread and beetroot cr?me fraiche or layered haggis, white and black pudding served with red onion marmalade and whisky cream sauce. Main courses include west coast haddock, salmon, cod as well as Morayshire lamb and locally-sourced pork fillet. There is also a cozy bar across from the reception area which will soon boast a whiskey theme and a large sitting room for quiet reading or simple relaxation.
Columbia Hillen
Built originally in 1907 as an Edwardian villa in the arts and crafts style, the Ramnee Hotel lies within the leafy parkland district of Forres, famous for 'Scotland in Bloom' and 'Britain in Bloom' award-winning floral displays. This area of Scotland, known as the Moray coast, is located between Speyside and the Highland capital, Inverness, and offers a wealth of places to explore and a variety of things to see and do, from Findhorn on the coast—with its unique spiritual community and eco-village—to the famous Malt Whisky Trail, including the whitewashed building and picket-fence surround of the Victorian Dallas Dhu—a non-working distillery a mile along a pine-tree lined road where whisky tasting is accompanied by the taste of toasted coconut shortbread.
There are also challenging golf courses in the area as well as ample fishing, walking and cycling opportunities. Castle visiting is made easy with Cawdor Castle closely associated with 'Macbeth' within a 30-minute drive and several 'Highland Games' events take place in the area every year, including traditional music, dance and sport.
The area still retains evidence of its mysterious past—one of the Forres Witches Stones, for example, is located to the right of the hotel's pedestrian entrance, marking the grave of one of the three witches who enchanted King Duncan in 960 AD; they were each rolled inside stout barrels through which spikes were driven.
The legacy of the ancient Pictish people, who lived in the area more than a millennium ago, provide for exciting discovery, with their earliest remains being found at Forres. The largest Pictish standing stone in Scotland, the 20-foot Sueno's Stone dating from the 9th or 10th century can be studied up close here. (
Photo credit: Ann Harrison
)

The Culloden Visitor Center, just outside Inverness, is an example of history-turned-entertainment, with its comprehensive exhibition of the famous 1746 battle between the armies of England and the Scottish clans led by Bonny Prince Charlie. Lively tour guides give visitors in-depth knowledge of the battlefield itself which complements the interactive, multimedia battle re-enactments inside the museum. (
Photo courtesy of The Culloden Visitor Center
)
For more information visit
InvernessCitySuites.com
or
RamneeHotel.com
.