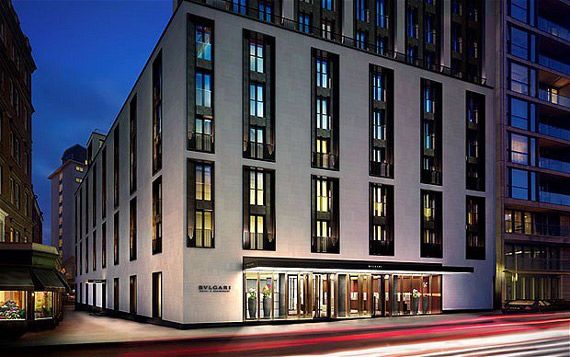 Photo Courtesy of Bulgari Hotels & Resorts
You're headed across the pond and you need a place to stay. As you scour the selection of historic, beautifully appointed,
luxury London hotels
, you might notice there's a new property in town just waiting to be explored.
The recently opened Bulgari London is right in the middle of Knightsbridge, the toniest neighborhood in the city, as is reflected in the minimum ?850 ($1,370) per night room rate. A collaboration between Marriott hotels and Bulgari, the lavish hotel is located right across from Hyde Park, making a stroll around the stomping grounds of this year's Olympic Games an easy outing. And if you'd rather get some quality shopping done, Harrods is just next door.
Offering 85 rooms and suites (currently the largest in London), the spacious accommodations showcase sleek interiors including marble bathtubs, Italian silk fabrics, and minibars resembling travel trunks. Among the richly upholstered rounded chairs and velvet bed frames, there's also flat screen LCD TVs, Nespresso coffee machines, free WiFi and Bulgari toiletries.
Not everyone is impressed with the offerings at the Bulgari Hotel, however. The
Daily Mail
's Travel Editor Mark Palmer stayed at Britain's most expensive hotel in July and checked out with a new name for the property: "The Vulgari Hotel." He says, "Certainly, you have to be very rich indeed to stay at one of his hotels...You also have to put up with claustrophobic service from the ever-zealous staff, achingly modern decor that will look naff in a few years' time, and a thump of music that feels like a constant hammer blow to the head."
Perhaps he's speaking of the dramatic granite bar, titanium ceiling, and Sapele mahogany walls that make up the hotel's own Il Bar. Guests are welcome to enter through a separate door from Knightsbridge Green or through the main entrance just past the private Bulgari collection of 17th and 18th century Roman silver pieces.
Down a winding staircase is Il Ristorante where classic Italian dishes are given modern interpretations. Palmer also expressed his opinion on the basement dining venue: "The lighting is harsh, the acoustics appalling. What on earth does the dress code of 'elegant smart casual' mean and how, at these prices (he had a $55 fish entree and $23 anchovy salad), can you insist that tables booked before 7:45pm must be vacated after two hours?"
The two-story Bulgari Spa employs a more simple design approach, yet incorporates materials like onyx, oak, Vincenza stone and glass mosaics that echo the opulence of the Bulgari brand. As one of the largest spas in central London, there are 11 treatment rooms, an 80-foot mosaic-tiled pool (Palmer actually calls it "quite lovely"), fitness center, a relaxation room, and nail salon, as well as thermal treatments involving ice fountains and cooling showers.
Additional amenities include a 47-seat movie theater, a cigar shop and sampling lounge, a glamorous ballroom for wedding receptions, boardrooms and meeting spaces, and a state-of-the-art business center. Concierge services also include babysitting, personal shoppers, limo service, valet parking, airport transfers, car rental and butler service for those staying in a suite.

Palmer informs that the hotel is filled to capacity nearly every night, even the ?14,400 ($23,000) penthouse; so whether the staff is too attentive, the decor is over-the-top, or the rates are obnoxiously high is clearly a matter of personal opinion and preference. So what's yours? Visit
BulgariHotels.com
to learn more.